Own Your Space with a Solid Social Media Strategy for Your Personal Brand
Published Jan 4, 2018

Chris Mulvaney is the CEO of CMDS. I make things... I'm the creative entrepreneur with passion for (re)making brands and inventing solutions to problems no one knows exist.
---
Social media can be a giant time-suck or a one of the smartest investments to grow your personal brand. It's important to keep your audience up-to-date on all the things happening in your life, but getting results can sometimes be a challenge. Cut through the clutter and learn how a solid social media strategy for your personal brand can super-charge leads into new and lifelong customers.
Social Media, PR and Personal Branding: What Do You Want to Be Known For Online?
No doubt, you're an expert in your industry and your audience needs to know. But how do you stand out from all the other movers and shakers on social media?
With an endless supply of "experts" online, it's critical to position yourself as the leader on social media and PR. What you say on social directly affects the way a potential customer perceives you and the content also gets ranked on search engines, like Google. So, choose your words wisely and refer to the following questions to get the wheels turning on what to cover:

1. What do you want your customers to think about you, your brand and your business?
First impressions and following through with what you promise is important. Be clear on how you can solve others problems and always over-deliver.
2. Do you have a personal history of triumph or hardship that others can relate to?
Don't be afraid to tell your personal story. People relate to life experiences (good and bad) that have shaped you to be the person you've become. You collect cars, that's cool-  talk about it. Did you overcome a certain hardship? Share your story; these things forge character.
3. Do you consider yourself laid back or professional?
Whether your products/services are associated with luxury or affordability, as a personal brand, you need to show care for your social media audience by appearing genuine. Don't try to be like someone you're not. What works for them may not work for you. Find your own voice and own it.
4. Are you well-networked?
Invest in a set of professional photos to be displayed front and center on your website and social media accounts. This is important to showcase the best possible first impression when you're networking and meeting prospective customers. Attend top industry events every year where you can connect and be seen. Take pictures while you're there and use this as fodder for social and PR.
5. Do you know how to damage-control?
Let's face it. Sometimes the shit hits the fan and honest mistakes happen… leading to a negative online review. You have to expect that someone, sometimes will probably say something not so nice. Even just one bad review can negatively impact a brand or business. Whether as a comment on social media or as a review, it's critical to address these comments right away…the right way.
6. What is your mission and how do you give back?
When you invest your time, money and energy into giving back, let your audience know you're committed to making a difference in the community through philanthropy. Spreading goodwill is one of the best ways to position yourself and differentiate your brand far above anyone else in your field.

Personal Branding on Social Media
According to the Small Business Association (SBA), eight out of ten businesses fail within their first year. Fast forward to year five and only 50% will be around. Why don't more survive? They simply don't know how to effectively market themselves.
To build your personal brand and grow your business past year five, you need to own your social media space.
Once you discover how to…
effectively communicate to your target audience,
at the right time,
on the right social channels,
about what you do,
how you can help them and
in a way that enables them to take action…
…you'll start seeing results at a much faster rate.
By the way, if you think you're too old to build your personal brand, think again. As long as you deliver enough quality content that your audience can use, age is irrelevant when determining your success on social media.
As Anthony Robbins puts it, "The only thing keeping you from getting what you want is the story you keep telling yourself about why you can't have it."
Create Social Media Strategy for Your Personal Brand with CMDS
Whether you're starting from scratch or refreshing your personal brand image, these strategies will save you time and money, resulting in greater mindshare and credibility. And eventually help you work toward the entrepreneurial freedom and flexibility to finally be able to do what you want, when you want.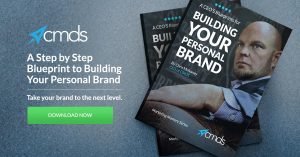 Related Personal Branding Articles: