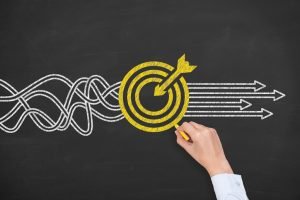 Oh, social media, how you've changed in the last decade. Today, it seems nearly impossible for businesses of all sizes to exist without Facebook fans or Instagram followers. But with so much social chatter, where can you find an awesome social media agency in NJ that can get your brand into the upper echelons of the ever-changing world of all things social?
As you're searching for the answers, these three questions will help you find the perfect agency for your business.
1. How will your social media agency help me reach my business goals?
Before we answer this first question, you need to answer a few foundational questions of your own, including:
What are your strengths and weaknesses?
Who is your target audience and competition?
What budget and resources do you have available?
Once you identify your goals, find out who will be handling your account. Will they be in-house (preferred) or outsourced or both? Then ask about the specific social media strategy that you need to succeed. Also ask how they plan to reach and engage your target audience.
2. How does organic vs paid social content fit into the proposed strategy?
We understand the temptation to always post new content on your page (we see it happen all the time). However, brands must be strategic when considering the best placement of fresh content. Every piece of content should have a purpose, all stemming from your specific business goals to yield faster growth of engagement, clicks —and, ultimately, customers.
Get into a deeper discussion about the breadth and width of an agency's proposed social strategy. How will your budget be used to reach and convert customers and what KPIs (Key Performance Indicators) will be measured along the way? Reputable marketing agencies will already know what analytics to measure based on your goals such as traffic, traffic sources, conversions, cost per lead and revenue per lead. Remember, we've worked with hundreds of businesses on their marketing initiatives and know what works!
Once you pull the number, ask about their ability to respond to real-time results to increase your reach. Savvy social media agencies know how to identify posts that are working and those that may need some adjusting. Then they'll act on it.
3. How do we get started?
When it comes to the initial process of starting social media services with a new client, many agencies lack structure. Those with experience know that a strong strategy will set the stage for how far the efforts will move the brand forward. Without it, campaigns are more likely to crash and burn. At CMDS, our process looks a little something like this:
Schedule a kick-off meeting with the team to discuss business goals, challenges and brainstorm ideas.
Analyze industry, business, competition and buyer personas.
Refine ideas into a structured campaign strategy based on priorities and analysis.
Present detailed marketing plan, KPIs and timeline.
When you ask the right questions, you make the right decisions. So, do your homework; don't be afraid to ask for case studies of other companies they've helped grow. Agencies that get true results will jump at the chance to show you how they designed, developed, implemented and grew campaigns for other brands. The proof is in the pudding.
Connect with CMDS, a Social Media Agency in NJ
From small business startups to large corporations, brands are turning to social media agencies to help them create a social media marketing strategy. But much like composing the perfect post, finding the right agency to manage your social media services can be surprisingly tricky.
Tap into our team of professionals at CMDS to help you implement a social media plan, identify KPIs, analyze insights, build your digital brand, create content and nurture social communities. Take a spin around our website and contact us today at 732-706-5555 to learn more.