On Target: Build Your Personal Brand By Blogging
Published Jan 8, 2018

Chris Mulvaney is the CEO of CMDS. I make things... I'm the creative entrepreneur with passion for (re)making brands and inventing solutions to problems no one knows exist.
---
People prefer to do business with other people, not with (seemingly) faceless companies. Today's consumer leans on referrals and emotion. When the time comes to make a purchasing decision, it will all boil down to which brand they trust more. And one of the best ways to establish that trust is to build your personal brand by blogging.
Stand Out By Using Blogging to Build Personal Brand
It's no surprise to hear that we've gone from being exposed to approximately 500 advertisements or promotions every day back in the 70's to being bombarded by as many as 5,000 messages a day. There's a lot of competition out there vying for the attention of your customers, though not everyone are doing it the right way (or at all).
Most brands are missing the target. That's good…for you.
If you want to boost your influence in today's highly-competitive, rapidly-changing online marketplace, you must captivate the hearts and minds (and sale) of your audience through blogging and sharing that on the right social media channels.
When you do, you'll start to see opportunities in the exact places where your competitors are feeling confused and frustrated.

Build Your Personal Brand by Blogging With a Plan
With your words, you have the power to either trigger powerful buzz-worthy campaigns or they can bury you alive. This is exactly why blogging intimidates most people. But, don't allow yourself to be spooked.
The moment you decide to build your personal brand by blogging, you must grasp these two important concepts: your success heavily relies on how much people trust you and how well you can persuade them to work with you. Once you do, you'll quickly leapfrog all the others to lead your niche in branding buzz.
But, a lot more goes into blogging than the writing process; it's not 100% about the words you write on their own. If you're going to succeed in building a personal brand blog, you'll need to have a handful of other tools under your belt:
Quality Content
Consistency
Keywords
Social Reach
Flexibility
1. Create Quality Content
Your blog mindset will have to be radically different from what's been done in the past. Your blog is not the place to brag. It's the place to establish credibility and authority. There's a difference. Your blog should be about how you, as the go-to brand, can help your audience, rather than a place to feed your ego.
Build your reputation (online and offline) by showing off your experience with quality content. Once you become a trusted resource of content, when people need to find information on something, they'll go back to the source that was helpful to them in the past. The source that they trust.
2. Establish Consistency
Consistency with your voice, consistency with how often you publish, consistency with relevancy is all important. Update your blog on a regular basis (minimum of weekly) and start guest blogging for other well-known industry-related websites and magazines. Getting published to build your personal brand also helps you form relationships with other industry influencers and form your core audience.
3. Use Keywords
Since search engines, like Google, have shifted their algorithms to make finding relevant information easier for the user, keywords are not an option anymore. By strategically using the right keywords, you can create blog magnet that will help you own your search engine results.

4. Gain Social Reach
Your blog won't work unless you have revealed their need and provided their solution. Because when they believe in you and how your product or service can deliver what they're looking for, you'll experience much stronger customer loyalty. Then, they will bypass others and choose you because of that emotional connection.
But they won't know about it, unless you share it.
Using all the content you've just created, engage with your audience on their social media platforms. Facebook, Twitter, YouTube, you need to know where you audience spends their time, then meet them there. And, like your blog, posting must be consistent with your character, style and frequency to generate the exposure you deserve.
5. Be Flexible, Yet Have Structure
"Empty your mind, be formless, shapeless — like water. Now you put water in a cup, it becomes the cup; You put water into a bottle it becomes the bottle; You put it in a teapot it becomes the teapot. Now water can flow or it can crash." ~Bruce Lee
Your blogging and social media mindset needs to be flexible and adapt – flow like water. Use your content to engage people and influence search engines alike and be prepared to change based on results.
But, for a personal blog to be effective, it must also be well-planned out and marketed correctly. Unfortunately, too many entrepreneurs stall on the starting line staring at a blank piece of paper and wonder why they're not getting the results they want. Consider creating an editorial content calendar to work off a structure that supports your personal brand objectives to better serve customers and potential customers.
Build Your Personal Brand Blog Professionally
Whether you're building your personal brand to establish credibility and trust for your company or start consulting, blogging to build a personal brand is one of the vital ways to establish yourself and stay competitive. So, if you're serious about eliminating needless stagnation online, turn to the professionals to build your personal brand by blogging the right way.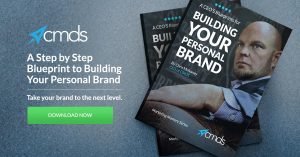 Related Personal Branding Articles: