3 Social Media Brand-Building Lessons Luxury Brands Can Learn from Rent the Runway
Published May 7, 2019

Chris Mulvaney is the CEO of CMDS. I make things... I'm the creative entrepreneur with passion for (re)making brands and inventing solutions to problems no one knows exist.
---
It's not easy to disrupt the $1.7 trillion global fashion industry, but rental e-commerce pioneer Rent the Runway is doing just that. Launched in 2009, the company has single-handedly created a niche in the world of womenswear where before there was none. By allowing women to borrow items they would otherwise not be able to afford, Rent the Runway gave women access to their dream closets without the financial burden or commitment. A rental market for designer clothing for women was born.
The profitable and high-growth business has built an impressive 6 million-strong loyal customer base. Even more impressive? They've done so by relying almost completely on organic digital interaction, having invested less than 4% of revenue on marketing thus far.
Rent the Runway has quite literally built their brand on social media.
What can luxury brands learn from Rent the Runway's social-savvy approach?
A Model Built On A Foundation Of Organic Interaction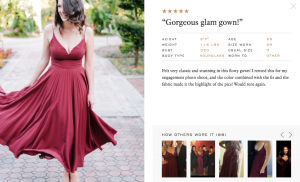 From the start, Rent the Runway's founders recognized consumers' desire to feel connected to the brands they are buying from. They encouraged shoppers to upload photos on their website of themselves in the pieces they had rented, and to post honest reviews to help fellow shoppers in their quests for the perfect dress.
Not long before Rent the Runway's launch in 2009, Facebook had become the most popular social networking site. Rent the Runway quickly learned the benefits of embracing a digital dialogue with their consumers.
Recognizing the hyper-awareness of celebrities' lives that social media gave the world, they spotted a trend toward users' desire to create their own personal brands on social media to flaunt their own level of luxury. Customers responded eagerly to Rent the Runway's call to upload photos of themselves on Facebook. By 2012, the brand had grown a Facebook audience 115K users strong.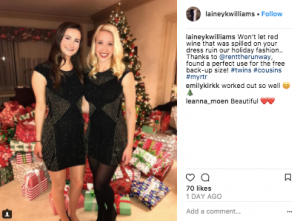 Fast-forward to today, where shoppers are not only continuously posting to their website but using Rent the Runway's unique hashtag, #MyRTR, across social platforms to share photos, feedback and fun!
The Lesson For Your Luxury Brand:
Happy customers can be the most valuable champions for your brand. Encouraging your social media followers to be active participants helps to earn their trust by making them feel a part of your brand's journey. It also turns them into brand ambassadors, helping to spread your message in a genuine and organic way.
Early Adopters Who Are Quick To Adapt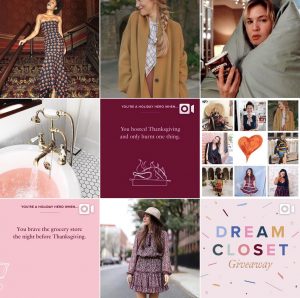 Since its inception, Rent the Runway has relied on social media not merely as one component of an overall marketing strategy, but as the primary way to get (and keep) their brand on the map. Their leadership views social media as an unmatched opportunity for community engagement, for storytelling, for communication and ultimately, as the best way to deepen their customers' connection to the brand.
Recognizing that engagement on Instagram accounts for a whopping 92% of social interaction overall, the brand maintains an active presence on the image-focused platform. Relying on a creative mix of user-generated content, fun video clips, informative announcements, creative graphics and exciting giveaways, Rent the Runway keeps their brand top-of-mind among its 170+K Instagram followers.
Rent the Runway has recently made the decision to switch some focus away from Snapchat to Instagram Stories to help grow their brand and increase customer engagement. Recognizing Instagram Stories' popularity, they see the feature as an opportunity to reach a larger audience that is interested in engaging in real-time.
The Lesson For Your Luxury Brand:
You don't necessarily need a massive marketing budget to move the needle on social media. Keeping pace with new trends, zeroing in on where your target audience is (and is not) on social and figuring out what appeals to them is critical to your brand's success in the social space. Varying your content and keeping social posts creative yet purposeful can go a long way toward building brand awareness and customer loyalty.
Digital Interaction And Real-Time Listening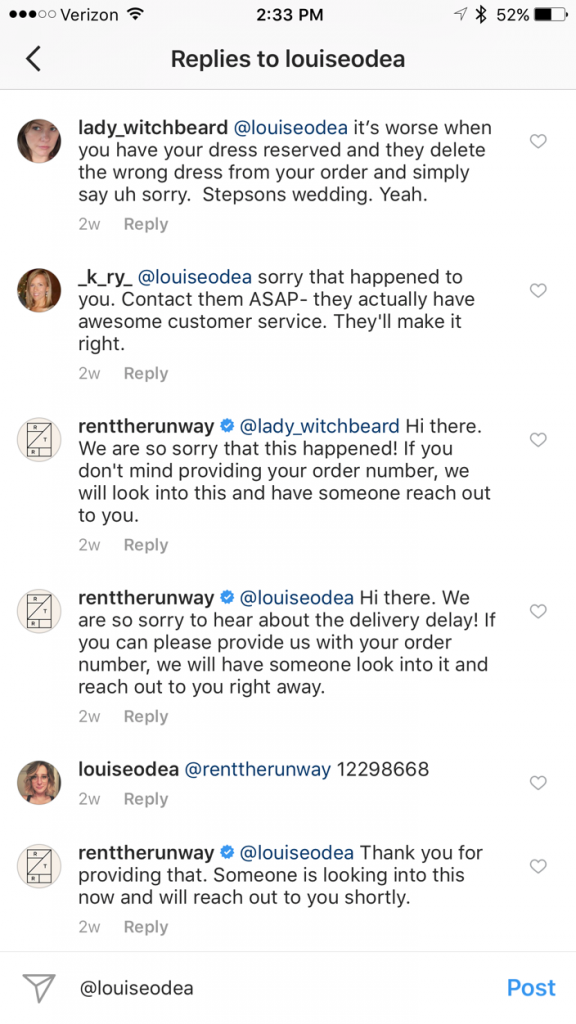 From its inception, the founders of Rent the Runway have prioritized efforts to make their customers feel connected to the brand, not just figuratively, but literally. Despite the company's growth since 2009, they maintain their commitment to personal communication with their customer base. They follow a set protocol for regularly interacting with consumers online by consistently responding to tweets, engaging on Facebook and responding to comments or questions on Instagram. By monitoring activity on their website as well as all social platforms, they are able to address issues or concerns in real-time, and provide an unparalleled level of personalized service and communication.
The Lesson For Your Luxury Brand:
Social media offers your brand the opportunity to hear and understand what your customers are saying about you. Take advantage of it! Letting customers know you are listening by providing quick responses to questions or resolutions to issues can go a long way towards earning their trust. Reaching out not only when there is a problem or complaint, but simply to show your audience that you value their support and their business can create a customer for life.
How Can You Build Your Luxury Brand On Social Media?
Need help figuring out how to put these lessons into action for your brand? CMDS is a full-service marketing and branding agency that can provide you with all the tools you need to strengthen your brand online. Contact us today.