{SEO Agency}
Google updated their privacy to now hide all keyword data
Don't cry over keyword not provided! When Google recently stated that they were going to be encrypting organic keyword info in google analytics, everyone in the internet marketing world instantly started looking for a new career. For reals tho…, if you can no longer see where your organic search engine traffic is coming from and what search terms people were using to find your website, how can you target your SEO efforts effectively? It's really just an effort to provide more security and privacy to everyone using Google and really, that's a good thing. So what happens now?
More Google Adwords (paid search), please.
Doing paid search allows google to show all the keywords users used to click on your ads. Even better, if your google adwords account is set up with conversion tracking, you can see all the conversions associated with a single keyword click. #BOOM! The most ROI focused effort just became even more important. Talk to CMDS to learn how we can help by calling 732-706-5555 today!
You can let the SEO Experts and PPC Experts fight it out, but PPC Experts may win.
Ah yes… the age old question… SEO or PPC? Does it really even matter?
Yes, it does. It used to be that SEO was the best option for online marketing as it yielded the best/most traffic for the dollars spent and effort. You could market your website with tons of articles and cast a wide net of opportunity to drive traffic. That still holds true for some niche industries. However, with several factors which I'll point out below, you'll see why paid search seems like a better choice.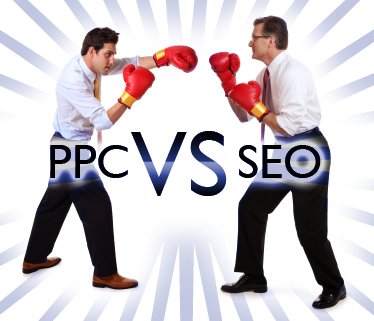 Just a disclaimer before we proceed: my agency still believes that both SEO and PPC are worth persuing when marketing your product or service online. We have both SEO Experts and PPC Experts, and have been doing both since they first existed. We see tremendous value in both, and usually it all comes down to what you are willing/able to invest.
Why Google Adwords PPC Marketing?
Since October of 2011, Google decided to update their privacy policy which can block a tremendous amount of keyword data. In some cases, we've seen 60% of our keyword data hidden because of this. When focusing on SEO or PPC, you can see why knowing exactly what keywords are best performing really does matter. The great thing about Google Adwords is that the "not provided" keyword issue is no longer an issue here. We're able to see all the keywords that users utilized when coming to our website via PPC because we've paid Google.  This is the number one reason why we always recommend using Adwords at any capacity. There are many more advantages to using Adwords OVER organic SEO, and I'll explain them below. Even though our agency makes more money on SEO, we'll always recommend going to some sort of paid search campaign. 
2 BIG reasons why Google Adwords PPC rocks:
Create and manage large lists of keywords
One of my favorite advantages of using Adwords is that we can create HUGE lists of keyphrases. Depending on client budgets, we create ad groups each holding around 20 different phrases of focus. At the end of the day, our campaigns hold thousands of keyphrases that are super relevant and specific to the subject we are marketing. This enables us to drive quality traffic for a much lower price. It's all about easily organizing keywords into Google PPC keyword groups & creating targeted and effective ads for each keyword group.
Drive more business to your site through more highly qualified traffic
The more relevant the ads/keywords/visit are to the landing page of choice, the higher the quality score will be, and thus, the lower the cost per click. With all campaigns, we write better, more relevant AdWords landing pages which allows us to get a much higher quality visitor. The better the quality of visitor, the more opportunity we have to convert that visitor into a lead. With conversion tracking installed, we can see exactly what keyphrases are converting visitors into leads and eliminate irrelevant clicks and wasted spend by implementing negative keywords. We can then reallocate the dollars that weren't working efficiently towards keyphrases that are working great!
The Bottom Line
If you've never had success with Google Adwords or other PPC programs, it's most likely because the wrong person or company was managing it. It's not a simple task if you aren't a technical, marketing focused, entrepreneur-minded human. The tests alone to get Google Adwords Certified are amongst the hardest tests to pass today. There are constant updates being made to Google Adwords, and new opportunities rise daily within each account. 
Once you've got keyphrases you KNOW convert and work for your business, you can focus on SEOing your website for those proven phrases to rank high organically on Google. That's where the SEO Experts can take the reigns and start driving even more opportunities to your website.  
Today, every dollar spent is trackable against an actual new business acquisition. Every tool in your marketing tool kit will not be as quantifiable as Google Adwords. It's the best tool that exists today to drive the best business to our bottom line. 
If you would like to learn more on how we can help you attract your ideal client types and drive more business, please call CMDS at 732-706-5555 today. 
When launching or re-launching a website, you often think about things like usability, great copywriting and overall design. You'll talk to your website designers about brand colors and identity, while you'll talk to your copywriters about tone and personality.
Read More

»
SEO (Search Engine Optimization) and online marketing today go hand in hand. When a company decides to dive into these areas as a way to improve their market reach, it is a smart idea to have an SEO agency that has a history of success.
When a company first decides to work with an SEO agency to have their message heard online, a major first step is to review the content currently on the company's website. Is it focused? Does it include important keywords that are often searched? Is there a linking strategy in place? It is also a good idea to complete a competitive analysis to compare the search results of the competition. This will help the SEO agency develop a keyword ranking strategy for the company's website.
A keyword ranking strategy is an important part of developing a SEO marketing plan that will focus on organic (also called "natural " ) search results. If the company is looking for a "jump start " then that information will also prove valuable if the company would like to have a corresponding pay-per-click (also known as "PPC " ) campaign.
Implementation and Testing by an SEO Agency
Once a keyword ranking strategy is in place, it is important that the site content reflects that strategy. After that is in place, the SEO agency can track and analyze the analytics and statistics that are gathered after the site is online with the new optimized content. This information can provide valuable insight into how people are finding the company's site and what keywords they are using in their searches. Once armed with that data, the SEO agency can tweak the program as needed.
SEO and online marketing is not a "set it and forget it " type of program. It requires constant analysis and care. By a company enlisting the assistance of an expert SEO marketing firm NJ NY, they can be assured that the firm will give the campaign the attention it requires for success.
When a business is ready to take the next step in improving their online presence, they may consider an agency that can provide SEO. But what can really be gained from an SEO agency?
What is SEO?
SEO (Search Engine Optimization) is the process of improving the overall visibility of a website in search engines, such as Google, Yahoo and Bing, via natural (also called organic), unpaid search results. There are many facets of SEO, including data search, local search, video search and vertical search for specific markets.
SEO considers how people search for information and what best practices can be utilized to improve a company's website in search engine results. These best practices can include proper site coding, developing optimized site content, inter-page linking, developing a keyword ranking strategy and legitimate inbound linking, to name a few Developing a strong SEO campaign is an important part of improving a website's presence in organic search. It should not be overlooked or considered inconsequential.
How Can an SEO Agency Help a Business?
An SEO agency has the expertise to develop a SEO strategy for a business, based on their needs and then implement it for maximum success. The algorithms of search engines and best practices for SEO are constantly evolving. As a result, it can prove difficult for a business to keep up to date on this constantly changing information as well as continuously improve upon their skill set to make sure they are getting the most out of their SEO campaign. An SEO agency can take care of managing the SEO campaign for a business and keep their customer up to date on everything that being done, what is proving successful and what requires adjustment for improved success.
SEO can be a complicated and time-consuming process that requires a high-level of knowledge in a variety of areas, including website coding, optimized content development, developing a keyword ranking strategy and working up a linking plan. When a business decides to work with one of the experienced SEO agencies, chances of success are greatly increased.
Search engine optimization is a complicated and time consuming process. Often, businesses do not have the time, knowledge or internal resources to manage this type of work, which is why it makes sense to get help from an SEO agency to develop a plan that makes sense for that specific business.
What is Search Engine Optimization?
Search engine optimization (also known as SEO) is a series of best practices that help promote a business' website so it returns higher in search results. When a business returns in a high position in search results, there is obviously a better chance an individual will click-through to the website and become a customer. This type of work requires much analysis and time. It is also important to note that there is a specific structure and process to SEO. If this type of work for a business' website is done incorrectly, it can hurt the website with the search engines and either damage the website's search engine ranking, or even worse, the site winds up banned from search engines all together. This is why it is smart a business utilize an SEO agency to both develop and implement a smart SEO program that follows all the industry's best practices (also known as "white hat " ).
What an SEO Agency can do for a Business
A SEO agency can provide a thorough analysis of a company's website, develop a keyword ranking strategy that makes sense for the type of industry the company is in and, most importantly, a project time line that will not raise questions with the search engines or be classified as "black hat " (unscrupulous practices) with search engines. The search engine optimization firm in NJ can utilize a variety of different analytics tools to review the results of the SEO campaign on a regular basis to identify what is working well and what requires adjustment. Over time, patterns for site visitors from search engine traffic will develop so the search engine optimization firm in NJ can continue to make adjustments that will help ensure success.
How important is Social Networking? Our seo company says astonishingly important!
The job of an SEO agency just got even more difficult. With Google's Universal Search Model implementation and their constant updating of features, it makes the job of an seo company increasingly harder. The most recent plans are to release Real-Time Search. Real-Time Search takes feeds from multiple communities online and displays them at the top of google's search results page. It displays relevant results that were found within popular social networking communities.
Google states, "Our Real-Time Search features are based on more than a dozen new search technologies that enable us to monitor more than a billion documents and process hundreds of millions of real-time changes each day. Of course, none of this would be possible without the support of our new partners that we're announcing today: Facebook, MySpace, FriendFeed, Jaiku and Identi.ca 'Äî along with Twitter, which we announced a few weeks ago."
See Real Time Search in action!
Companies that are not embracing Real-Time Search technology will find it harder to place on search results pages as google will start to rank sites that participate in social networking higher.
To learn about how this SEO agency can help you leverage Real-Time Search, please call 732-706-5555 or contact us online.
Our SEO Agency can help you make the most out of your company's seo efforts
Google's Universal Search Model has been with us now since 2007. Ordinary Google users may not even know it is there, but SEO agencies clearly acknowledge its existence in the search experience.
If you are one of those who are unaware of Google's Universal Search, let me ask you a question: Have you ever noticed at the top of Google's search results page the additional links:
* Web
* Images
* Videos
* Maps
* News
* Shopping
* Gmail
* more…
In essence, Google is giving you the option of reviewing your search terms in one of Google's Alternate Search Tools.
These alternate search tools are called Vertical Search Engines – search engines that focus on a very specific topic. As you may well imagine, the Images link will let you search for pictures that represent your search query. The Videos link will let you review results from YouTube and other video websites.
Vertical Search Engines can be very useful in that they allow you to narrow your search results to the kinds of information that is more to your taste.
Google's Universal Search Model introduced some of those Vertical results into its main search page.
A search in Google's main search page for "Michael Jackson" will reveal 3 news stories at the top of its results. Next is two pages from MichaelJackson.com and then two pages from the Wikipedia. After the Wikipedia link, Google shows five pictures of Michael Jackson and five videos featuring Michael Jackson.
Google then presents a number of normal web pages about Michael Jackson, followed by three blog posts about Michael Jackson, and finally eight Related Search Suggestions.
Google is trying to represent information from many of the Vertical Search Engines that it owns. They are trying to give you a comprehensive analysis of the available information online, so that you can more easily find exactly what you are looking to find. Does your SEO agency even know this?
Each search vertical even offers a direct link to enable you to explore the vertical with more gusto. For example, the title "Blog posts about michael jackson", if clicked, will show you nothing but Blog posts about Michael Jackson.
As someone looking to get ranked in Google, Universal Search is a blessing in disguise. It may be easier to rank for your target keywords in one of the verticals, and therefore, it is entirely possible to quickly and easily rank in a very competitive industry in the vertical and thus gain page one rankings in Google, with very little effort.
Contact CMDS and hire us as your SEO agency
Search Engine Optimization (SEO) companies seem to be falling out of the woodwork. It almost seems that everywhere you go, you will find someone who claims a specialty in SEO, and they want your business.
The premise behind SEO is that the company will help you "optimize" your website, so that it can get good placement in the search engines. Most seo companies promise specifically that they can get you good rankings in Google, because Google drives 80% of all search traffic.
A lot of business owners are really at a loss to determine if the company being considered is actually capable of doing what they promise to do.
As such, we thought it might be useful to share some tips with you about how to tell if a SEO Agency actually knows what they are doing:
1. Ask for examples. If they tell you that they ranked someone for the name of the company, keep looking. Getting a company ranked for their own domain name is like the Special Olympics of the SEO industry. You only need to try, in order to win.
2. Do they provide examples on their website? This should not be taken as the Holy Grail, because it is not uncommon for an SEO agency to have "non-disclosure agreements" with their customers. Even though they may be unwilling or unable to share with you "case studies" from their client lists, they should be able to give you a few examples for their own website.
3. Are they willing to share with you the names of any of thier clients? If a company is able to at least share a company logo of their customers, this can add some depth to an understanding of the SEO agency's capabilities.
4. How many clients have you worked with? This is an easy answer that can be answered by anyone in the business. If the company is a one-man show, don't be surprised if that number is under one dozen. I know one fellow who does good work and has been providing seo services for years. His answer is 6 – even after eight years in operation. Why? He still has the same 6 clients he started with eight years ago.
5. What techniques do you utilize to build a client's search rankings? This question should not seek any specific answers, but rather it should seek a broader understanding of the strategies used. The strategies that an SEO agency can use vary widely, and there is not any one right answer. But silence from the provider should tell more than a lengthy answer.
As the questions are being answered, keep in mind that there are actually two sides to SEO:
1. On-site optimization is the process of making edits to one's website to improve the ability of the search engines to see what they need to see.
2. Off-site optimization is better defined as Search Engine Marketing (SEM), as it utilizes links from third-party websites to enhance the rankings of a company.
It is important for you to know what you are getting yourself into, before you get into it.
In most cases, you want to hire an SEO agency that brings a wide assortment of strategies to the process. There are no SEO techniques that can stand alone as "the only methodology necessary" to improve the rankings of a website in the search engines.
There are a lot of SEO agencies online, and many SEO specialists who have the ability to help a lot of people. Many of the SEO specialists operate as a one-man show. While that is fine, it is not always the best solution for every company online.
More than any other factor that we have been able to show you in this article, there are two types of SEO companies that you should strive to avoid:
1. The mass marketing company that calls you on the phone or sends you an email promising you the world, and sometimes promising you nothing at all. The best SEO companies may advertise, but they rarely need to "cold call" you to sell you their services.
2. The "lone gunman" who thought that SEO would be easy money, so he or she started advertising as a SEO provider. The "lone gunman" who actually knows what he is doing will be able to at least show you some evidence of his own online marketing successes.
When searching for a SEO agency to provide SEO services to you, the main thing you need to look for is competance and confidence. If either is lacking, you should keep searching.