{Internet Marketing Services}
NJ Marketing Agency CMDS enters into Google Partners Program
Being a Google Adwords Certified agency is nothing new for CMDS. The tests to become certified used to be all but trivial. But over the past few months, Google has rolled out a new Google Partners Program that eliminates the certification program and helps agencies to reassure clients that they are dealing with a dedicated and trustworthy company.
CMDS invests time and money into the skills and development of their employees, in an effort to offer their clients advanced account maintenance and recommendations within their marketing campaigns. These techniques are then applied to bring maximum results to our client's campaigns.
Google states, "Qualified Individuals and Qualified Companies within the Google Advertising Professionals program have met Google's requirements to attain this level of recognition. They've managed client AdWords accounts for at least three months with a minimum spending level; in addition, Qualified Individuals have passed the official exam to demonstrate their in-depth knowledge, and Qualified Companies have several Qualified Individuals on staff. Because achieving Qualified Individual or Qualified Company status is no easy feat, we reward these professionals with an official program logo and Professional Status page which tout the title."
Passing the Google Partners exam signifies that through extensive studying and experience, a company like CMDS is more adept at providing a client with the best online marketing practices. Ultimately, this will help to improve your campaign performance across the Google Search and Display Networks.
Contact your Google Partners today
We would love to chat! Contact Google Partner CMDS today!
Google updated their privacy to now hide all keyword data
Don't cry over keyword not provided! When Google recently stated that they were going to be encrypting organic keyword info in google analytics, everyone in the internet marketing world instantly started looking for a new career. For reals tho…, if you can no longer see where your organic search engine traffic is coming from and what search terms people were using to find your website, how can you target your SEO efforts effectively? It's really just an effort to provide more security and privacy to everyone using Google and really, that's a good thing. So what happens now?
More Google Adwords (paid search), please.
Doing paid search allows google to show all the keywords users used to click on your ads. Even better, if your google adwords account is set up with conversion tracking, you can see all the conversions associated with a single keyword click. #BOOM! The most ROI focused effort just became even more important. Talk to CMDS to learn how we can help by calling 732-706-5555 today!
Visual Appeal Award for www.ChefIam.com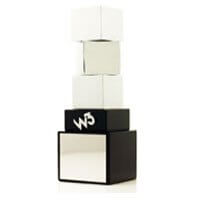 Today CMDS was notified that we have an award winning culinary website under our belt! We've won a Silver W3 Award for a dear client's website – Chef I Am. The site consists of educational videos on food preparation and cooking techniques. For a small monthly fee, you can subscribe to get access to the best culinary content available. You can visit the site at www.chefIam.com.
The W³ Awards honors creative excellence on the web, and recognizes the creative and marketing professionals behind award winning sites, videos and marketing programs.
The W³ is sanctioned and judged by the International Academy of the Visual Arts, an invitation-only body consisting of top-tier professionals from a "Who's Who" of acclaimed media, interactive, advertising, and marketing firms. IAVA members include executives from organizations such as AvatarLabs, Big Spaceship, Block Media, Conde Nast, Coach, Disney, The Ellen Degeneres Show, Estee Lauder, Fry Hammond Barr, Microsoft, MTV Networks, Polo Ralph Lauren, Sotheby's Institute of Art, Victoria's Secret, Wired, Yahoo! and many others.
Thank you, Chef Phil, for allowing us to create this award winning culinary website, to be creative and think outside the doggie bag!
You can let the SEO Experts and PPC Experts fight it out, but PPC Experts may win.
Ah yes… the age old question… SEO or PPC? Does it really even matter?
Yes, it does. It used to be that SEO was the best option for online marketing as it yielded the best/most traffic for the dollars spent and effort. You could market your website with tons of articles and cast a wide net of opportunity to drive traffic. That still holds true for some niche industries. However, with several factors which I'll point out below, you'll see why paid search seems like a better choice.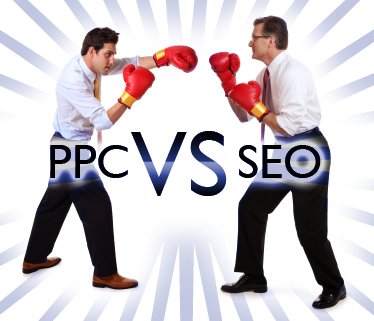 Just a disclaimer before we proceed: my agency still believes that both SEO and PPC are worth persuing when marketing your product or service online. We have both SEO Experts and PPC Experts, and have been doing both since they first existed. We see tremendous value in both, and usually it all comes down to what you are willing/able to invest.
Why Google Adwords PPC Marketing?
Since October of 2011, Google decided to update their privacy policy which can block a tremendous amount of keyword data. In some cases, we've seen 60% of our keyword data hidden because of this. When focusing on SEO or PPC, you can see why knowing exactly what keywords are best performing really does matter. The great thing about Google Adwords is that the "not provided" keyword issue is no longer an issue here. We're able to see all the keywords that users utilized when coming to our website via PPC because we've paid Google.  This is the number one reason why we always recommend using Adwords at any capacity. There are many more advantages to using Adwords OVER organic SEO, and I'll explain them below. Even though our agency makes more money on SEO, we'll always recommend going to some sort of paid search campaign. 
2 BIG reasons why Google Adwords PPC rocks:
Create and manage large lists of keywords
One of my favorite advantages of using Adwords is that we can create HUGE lists of keyphrases. Depending on client budgets, we create ad groups each holding around 20 different phrases of focus. At the end of the day, our campaigns hold thousands of keyphrases that are super relevant and specific to the subject we are marketing. This enables us to drive quality traffic for a much lower price. It's all about easily organizing keywords into Google PPC keyword groups & creating targeted and effective ads for each keyword group.
Drive more business to your site through more highly qualified traffic
The more relevant the ads/keywords/visit are to the landing page of choice, the higher the quality score will be, and thus, the lower the cost per click. With all campaigns, we write better, more relevant AdWords landing pages which allows us to get a much higher quality visitor. The better the quality of visitor, the more opportunity we have to convert that visitor into a lead. With conversion tracking installed, we can see exactly what keyphrases are converting visitors into leads and eliminate irrelevant clicks and wasted spend by implementing negative keywords. We can then reallocate the dollars that weren't working efficiently towards keyphrases that are working great!
The Bottom Line
If you've never had success with Google Adwords or other PPC programs, it's most likely because the wrong person or company was managing it. It's not a simple task if you aren't a technical, marketing focused, entrepreneur-minded human. The tests alone to get Google Adwords Certified are amongst the hardest tests to pass today. There are constant updates being made to Google Adwords, and new opportunities rise daily within each account. 
Once you've got keyphrases you KNOW convert and work for your business, you can focus on SEOing your website for those proven phrases to rank high organically on Google. That's where the SEO Experts can take the reigns and start driving even more opportunities to your website.  
Today, every dollar spent is trackable against an actual new business acquisition. Every tool in your marketing tool kit will not be as quantifiable as Google Adwords. It's the best tool that exists today to drive the best business to our bottom line. 
If you would like to learn more on how we can help you attract your ideal client types and drive more business, please call CMDS at 732-706-5555 today. 
Ever wonder where most people click when using google?
Below is an example of how important it is to be at the top. Using ppc or paid search in google is a great way to put your company at the top of Google for the ideal key phrases you would like to rank for. It doesn't just end there though. A lot of careful decisions need to be made in order to spend dollars wisely and gain conversions.
Heat Map of Google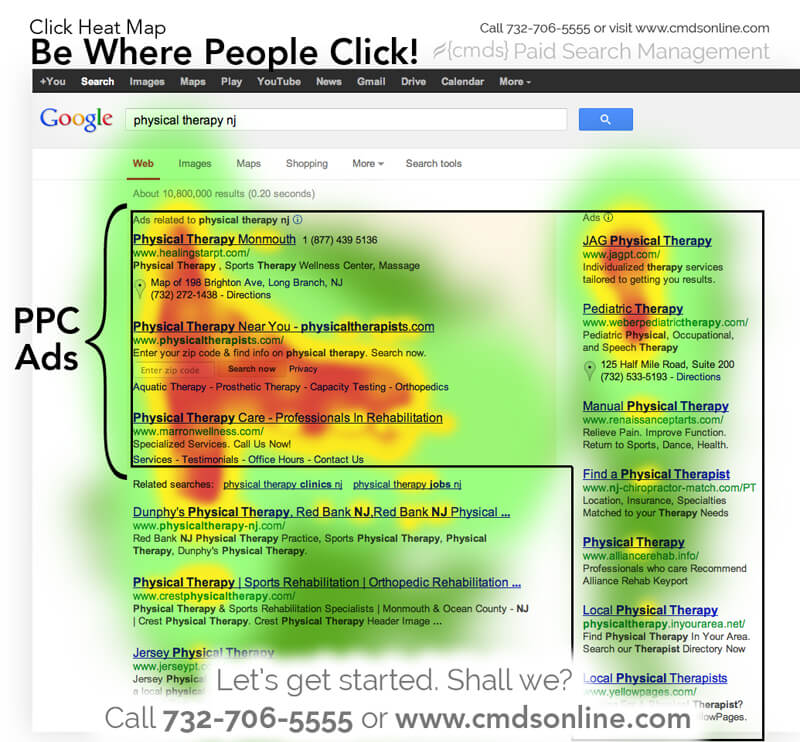 What CMDS Online Marketing Agency Guarantees
You will LOVE our service
CMDS prides itself on the outstanding service we offer to all our clients, regardless of project size. If you are working with CMDS, you can expect that our dedicated team of professionals will go out of its way to answer all your questions and walk you through each step of the project.
You will LOVE your new online presence
CMDS is award-winning design. Our passion for unique, functional, and eye-popping creative keeps us three steps ahead of the industry standard. The result: a completely distinctive online presence that engages visitors the instant the enter your site.
Your bottom line will LOVE our marketing results
Bottom lines love CMDS! Why? We're able to translate our deep marketing expertise and 10 plus years of experience into measurable results for your business. Our goal is to overwhelm your sales staff with qualified leads from your website and our online marketing efforts.
You'll wonder where we've been all your life
Our clients love CMDS because of our dedication and passion to their projects. Our goal is simple: CMDS wants to become your "in-house" marketing department – your go-to resource for any marketing needs, both digital and traditional. Our service, our design, and our marketing make CMDS a vital business partner for your company's growth and profitability.
"CMDS is top notch. I've personally worked with and recommended their work many times never to be disappointed. Chris' continual expansion of knowledge and expertise not only in web design, but how to effectively market your business is extremely value adding. He brings a professional edge I don't see too often in this industry. I'd highly recommend Chris and his company to anyone." – Shawn Winters, CTO of Gristedes
Learn how we measure the success of online marketing campaigns.
Pertinent Project Management Dilemmas and Effective Solutions Including New Task Management Software
CLIENT RELATIONS
Being a good project manager does not only entail being able to manage your team well, but also includes a great deal of interaction with the clients and addressing their needs. Every client is different. Some will need more communication and handholding, while others will throw you the ball and let you run with it. Being able to identify the specific needs of each client will be a great asset to any Project Manager (PM) and certain task management software can be a valuable aid. As you will see in the following 8 steps, incorporating this strategy will help you to be more organized, and effectively manage your projects in a timely manner.
When it comes to client relations, perhaps one of the biggest problems facing project mangers is when there is a disconnect between client expectations, and the perception of the project scope from the internal team. The consequences of delivering a product or service that has not been clearly defined between a client and service provider can result in loss of repeat business and a dispute over services rendered. That project may also have negative effects related to that client's other deliverables. If that is the case, they may tell their network contacts not to do business with your company. No company wants to be blacklisted!
To solve this problem, a concise proposal is the foundation for good client relations. A proposal is written documentation that clarifies the expectations of both the client and the service provider to ensure both parties start off on the same page. In this case, you have clearly outlined the services you will be providing, and the client will know what to expect. Documenting each step in writing allows the client to read your view of the scope of the project, and gives them an opportunity to make any changes or clarifications before work begins. Task management software can be used to keep all documents and information organized. Make sure you are aware of and involved in all processes. This ensures that both the client and service provider have expectations in alignment. Set milestones at different stages to help your company gauge client satisfaction throughout the process.
EFFICIENCY
Efficiency in the workplace is paramount. Streamlining the completion of all projects not only cuts down on overhead costs, but also boosts customer satisfaction by delivering accurate and timely work. For a small business, the old axiom "time is money" speaks volumes, and with little time and often small budgets, inefficiency is the sworn enemy of project managers, clients, and profitability. In small- and medium- sized companies, it is important to make sure that all projects propel the company in a positive direction. Finding ways to optimize and streamline business processes gives each employee more time to accomplish tasks that bring in revenue for the business. These 8 steps will provide any PM with the tools to boost both personal and team efficiency.
Efficiency also breeds positive employee/employer relations and increases moral in the workplace. The more effective the project team, the more satisfied employers, employees, and clients will be in the end.
Addressing and solving issues within the process will always pay off. Effective project managers will be happier, more productive, and make more money. What PM wouldn't want that? The 8 steps are not difficult. When reading many of them you may say, "This is easy", "I should do that" or even "I used to do that but over time I stopped for some reason." This is precisely the point! The steps are simple but the payoffs are great. Take this time to refresh your skills. Do not dwell on the fact that you may not have been doing them in the past.
Pertinent Project Management Dilemmas and Effective Solutions Including New Task Management Software
Effective Project Management is the backbone of any efficient and successful company. Often times, small- and medium-sized companies encounter problems unique to that of larger corporations. Frequently, small businesses have medium-sized client bases. With an out-of-balance employee to client ratio, all staff members must be firing on all cylinders at all times.
Small- and medium- sized businesses live and die by their clients and their deadlines. In some cases, one or two big clients keep the company safely above their bottom line. Not meeting deadlines on time could mean losing crucial clients, which means that organization and scheduling are critical. Every minute counts. Small- and medium-sized businesses often lack the processes found in larger corporations, however they do have the advantage of being able to create their own custom processes.
They have various options to facilitate efficient processes. New task management software like proTasker is taking this one-step further. Templates of each job model are created and saved for use in the future. No longer will you have to ask, "What comes next?" or "Who should perform this task?" Task management software like proTasker will not only suggest logical next steps, but also which employee is best suited to complete the task.
The trickledown effect of good processes is undeniable. Reducing errors in managing time and events will create a more streamlined approach. Effective process leads to less wasted time. Less wasted time leads to more time to contract other projects. More projects equal more money!
In addition to the 8 steps, the following whitepaper includes three sections with ways to improve your personal project management style, how to deal with clients and their needs, and boost overall efficiency in the process.
YOUR PERSONAL PROJECT MANAGEMENT STYLE
As a Manager, or Project Manager (PM), you are the leader of a team, and have the responsibility to be as effective as possible for both your team members and your clients. Understanding your personality style, being aware of your strengths, and weaknesses, and actively working to improve yourself professionally will put you on the path to success. Looking introspectively on a consistent basis and taking stock of any areas that could use improvement is extremely valuable. When analyzing personality styles there are four main categories in which people can be divided: Relaters, Innovators, Analyzers, and Drivers.
Relaters
Relaters are highly involved in their relationships with others. They have many positive character traits including the fact that they are often great listeners, caring, loyal, and valuable team players. They have the ability to bring people together and communicate effectively to a large group. They can distinguish between the needs and wants of individuals. They make others feel involved in projects they work on and foster consensus within a group.
Best Practices for Relaters
- Keep a detailed and organized calendar to help stay on top of your commitments and deliverables.
- When conflicts arise, be the one to remain neutral and avoid taking sides. Use your skills to restate problems as opportunities, and help others identify solutions rather than looking to assign blame or get out of the room.
- Volunteer to be the "scribe" for the project team. Use your talents to capture issues, deliverables, and action items in clear and concise ways, while recognizing accomplishments along the way for project completion.
Innovators
Innovators are constantly moving and have a great sense of excitement in the workplace. They are creative, energetic, persuasive, and excellent brainstormers. Their greatest strengths lie in their ability to solve problems, come up with fresh ideas, and create strategic plans. They are fearless in situations they have never encountered before.
Best Practices for Innovators
- Use your personal power to be a "thought leader" rather than dominating the conversation. Help others see the "big picture" as you often see it first.
- Ask 3x more questions than other team members to draw out and gain buy-in for the best solution rather than telling others what the "right" answer is.
- Communicate the big picture through visual expressions and examples. It is often easier for others to understand something once they "see" it.
Analyzers
Analyzers in the workplace stay consistently organized and focused on the details. They are procedural, accurate, methodical, and fact-oriented. They have a keen understanding how the process works. They have strengths in the documenting, controlling, accounting, and systematizing components of a project.
Best Practices for Analyzers
- At the start of a project, define the critical success measures/key performance indicators AND the methodology for how metrics will be calculated.
- Help the project team identify product/process improvement opportunities based on real data and analytics vs. "guesswork" or "politics".
- Make sure you do not check out when the "big picture" discussion takes place. You need to stand in the future sometimes to be able to see the present.
Drivers
Drivers range from firm and direct, to assertive and dominant. They are determined, authoritative, influential, and commanding. They have a "go-getter" attitude and desire to be in charge. They are great leaders and are often results-focused.
Best Practices for Drivers
- Remember the "Golden Rule:" Lead others by example, not fear.
- Recognize and reward others often! The best recognitions are frequent, creative, and never embarrassing.
- When conflict or breakdowns occur, help the team resolve conflict in ways that do not end up with winners and losers. Be a unifying leader, not just in charge.
In order to be effective, a PM needs to be a mix of all four types. Each person will gravitate more to one personality type, but do not place too much pressure on yourself! Work on developing those skills that are not your strong suits. A great deal is expected of all project managers and they are often over-worked and underappreciated. Understanding your style and the style of your team members will help you to understand their process better and communicate more effectively.