Geofencing Trade Shows: Surround Sound Your Ideal Customers
Published Jun 18, 2018

Chris Mulvaney is the CEO of CMDS. I make things... I'm the creative entrepreneur with passion for (re)making brands and inventing solutions to problems no one knows exist.
---
Trade shows provide valuable opportunities for businesses to connect with other businesses and potential customers. But, one of the biggest challenges during these events is the limited time they get to connect with their audience. Geofencing trade shows is a cost-effective way to create brand awareness and capture mindshare…even after people have stepped away from your booth.
Because of the mass amounts of digital noise, it has become increasingly important for brands to find innovative ways to capture the attention of their customers. Let's take a look at geofencing trade shows and how this location-based advertising can benefit brands nationwide.
How Does Geofencing Trade Shows Work?
As consumers are being bombarded with digital ads from almost every angle, typical click through rates tend to take a dive.
That's where geofencing comes in.
Savvy brands have begun taking a closer look at the potential of geofencing for events like trade shows, conferences and concerts. As one of the most advanced forms of location-based targeting available, geofencing has endless applications. It's also extremely cost-effective.
Through the trigger of a digital perimeter, also known as a virtual fence or "geofence," this technology allows marketers to tag mobile users who enter the geofenced area and start serving mobile banner ads to their device. The device could be anything such as a laptop computer, smartphone or a smartwatch and the target area can be as specific as a building versus a zip code or 1 mile radius.
Geofencing offers rich opportunities for brands to provide engaging messages as well as timely and relevant promotions in real-time through banner ads displayed on websites, mobile apps or within social media.
It's a growing strategy for many national and even local businesses. In fact, according to MarketsandMarkets research, the geofencing industry is expected to grow by 27% by 2022. Today, we see geofencing used for brands targeting trade shows, concerts, sports events, hospitals, local competition and more.
Benefits of Geofencing Trade Shows
Every company at a trade show will be fighting for the attention of the prospects in attendance. Geofencing gives them the edge they need to stand out in their minds.
Increase Brand Awareness
Geofencing gives marketers an additional way to connect with their audience and capture valuable mindshare at the right moment. Picture conference attendees browsing on their smartphone device, checking out their favorite news or weather app, or their Facebook or Instagram feed and then seeing your banner ad reminding them of your brand.
The more that attendees see advertisements from your company, the more they'll be more likely to recognize and remember your brand at the trade show and trust what you have to offer.
Drive Quality Traffic to the Booth
Geofencing ensures that you surround sound your most qualified audience, conveniently gathered in the same location.  Whether the trade show attendees see your ad before or during the day of the expo, chances are they'll be more likely to stop by your booth.
Cost Effective
As a pay-per-click model, geofencing is one of the most cost-effective marketing methods available today. By using GPS and routing algorithms, brands can provide the most relevant information for attendees, and only pay when people click.
Optimize and Convert
Geofencing provides the insights and reporting needed to strategically continue the conversation with the most engaged prospects after the trade show. Brands can do this through continued advertisements (up to 30 days) including links to landing page updates, coupons, reminders and promotions.
And once the user clicks on the ad, that individual can potentially be retargeted for longer periods of time.
Target Attendees Without Physically Being There
Even if a company is not able to make it to a trade show, they can still engage attendees with relevant ads directing them to a specific landing page. This is a unique opportunity for a brand to showcase their offerings in front of an interested audience even if the company is not in attendance.
Surround Sound Your Ideal Customers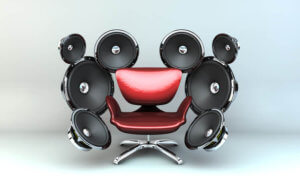 Is it time to kick your marketing strategies into overdrive?
At CMDS, we recognize the importance of geofencing trade shows and the benefits it can also bring for local advertisers. If you're interested in learning how geofencing trade shows can fit into your marketing strategy, schedule a time to talk with one of our marketing experts today at (732) 706-5555.
Get your brand in front of your target audience today.