Why Do Search Engine Rankings Matter When Building Your Personal Brand Online?
Published Jan 1, 2018

Chris Mulvaney is the CEO of CMDS. I make things... I'm the creative entrepreneur with passion for (re)making brands and inventing solutions to problems no one knows exist.
---
What shows up when people Google you?
It better be awesome. Majority of humans using search engines believe it to be the most trusted source of information about people and companies. Crazy thing is it's higher than any other online or offline source.
Personal branding isn't just for celebrities anymore. With so many other businesses offering the same service as you do, it's time to ask yourself two questions: "How do I stand out in the crowd?" and "What does the world think about my business?" Building your personal brand online is about digging deep and dedicating time to create a well-developed brand strategy… beyond LinkedIn.
As an entrepreneur, your personal brand is what everyone is buying into. And search engine ranking is one of the main factors that has the power to make or break your online success.
Search engine results have the power to expose personal brands to customers who are looking for your specific product or service or it can hide them from the world like they don't even exist. Sounds pretty powerful, right? It is. In today's competitive online market, it's more important than ever.
Why Are Search Engine Rankings So Important for Building Your Personal Brand Online and What To Do About It?
There's having a website, and then there's having a website that ranks well (and actually gets found). Even if you have all the flashy features on every page, if your audience can't find you, you may as well not have a website at all. In fact, ignoring your search engine ranking is virtually the same as boarding up your storefront windows: You're actually blocking customers from reaching you.
So, what can you do about it? Why should search engine rankings be taken so seriously for personal brands?
In a nutshell, once you build a powerful personal brand and master search engine rankings, you'll clearly stand out from all the other competition.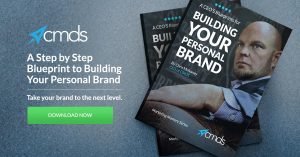 How to Own Search Results When Someone Searches Your Name
In every industry, brands are facing fierce competition online. Since millions of users are looking for solutions to their problems every day, building your personal brand online is more important than ever before….that means, the results on the search engine page matter.
When someone conducts a search for your business or your name, they are more likely to click on one of the top five results on the first page. The fact of the matter is, less than 10% of searchers make it past page one of results, therefore allowing the companies ranked higher on the page to form their impressions and opinions. To rank high within a search engine, get found and capture that trust (and click), your website needs to meet certain search engine optimization criteria.
Over 90% of all traffic from Google search comes from results on page 1.
Plus, consider this. When two brands are selling the same service or product (your competition), it will be the brand who took the time to build a strong personal brand and online presence that will be more likely to gain the website traffic and sales.
How Building Your Personal Brand Online Will Help You Dominate Your Space
When users are looking for your product or service, or maybe they don't remember your URL, they will use a search engine, most likely Google, to find you. In case you didn't realize, Google has achieved such a dominance in the SEO world that the company's name is often used to refer to searching the internet. Basically, the Kleenex of tissues. Consider it the source of truth for your personal brand.
Google "Google Statistics" and you'll see what we mean.
When customers search on Google (or any other search engine) the displayed results are dependent on ever-changing algorithms. Stick with us for a moment here… These algorithms are complex (they change all the time) and they take into account things like strategically placed keywords, title tags, content length, page loading speed, duplicate content, image optimization, recency and magnitude of content updates, link quality, grammar and spelling, multimedia, bullets, user-friendly layout, useful content, etc.
We understand your pain. You need to be on page 1, yesterday. And you probably don't want to deal with confusing algorithms. Unfortunately, search engines don't make it easy for brands; you can't "beat the system" anymore. There's no magic flip of a switch to get to page #1 on Google.
It takes time. Google is more interested in establishing a long-term relationship which means you need to put in some time and effort to build your name if you want to pop up high on search engines.
All tactics flow from a solid strategy to establish yourself as the authority in your industry, which includes consistency across your website, content marketing, social media, and even business cards.

Ready to Rank High in Search?
Business owners and entrepreneurs primarily want the same thing for their personal brand: top exposure on Google. Let the personal branding professionals at CMDS help you put these tips to practice and build your brand's search engine rankings today.
Related Personal Branding Articles: