13 Strategies To Ramp Up Your Digital Advertising for the Holidays
Published Dec 2, 2021

Chris Mulvaney is the CEO of CMDS. I make things... I'm the creative entrepreneur with passion for (re)making brands and inventing solutions to problems no one knows exist.
---
TikTok ads, television commercials, and podcast sponsorships are all on the table this holiday season, as businesses rethink their digital advertising strategies for 2021. While social media advertising and Google ads are still in demand, more businesses this holiday season are getting creative with how they reach consumers during a year that's been full of ups and downs.
We all know that these holidays will be unlike any other. Whereas consumers were stuck at home scrolling through social media feeds on their smartphones during the 2020 holidays, research indicates that consumers in 2021 are eager to get back outside and explore. According to an analysis by the market research company eMarketer, U.S. consumers will spend less time scrolling through Facebook this year and in the coming years. Time spent on the platform for users over 18 is expected to drop 3% in 2021, compared to 2020. eMarketer predicts Facebook usage will drop another 1.8% from 2021 to 2022.
Rather than doom-scrolling on their smartphones, more people are getting outside this holiday season. Bookings for holiday flights are up 78% over last year, and beauty sales are expected to top pre-pandemic levels, as people eagerly anticipate holiday parties and family gatherings. Visits to restaurants, gyms, and shopping malls are all up, as well.
Less screen time means fewer impressions, leading businesses to question where their holiday ad spend should be focused in 2021. However, despite fewer impressions overall, research suggests there is still massive demand for digital marketing and competition from advertisers. CPMs are continuing to skyrocket in 2021. CPMs on Facebook increased 50% over the summer months, and industry analysts anticipate CPMs going up another 50% this holiday season. Customer acquisition through social advertising and paid search is still relatively inexpensive when compared to more traditional offline advertising channels.
Social media advertising isn't disappearing — far from it. Advertisers are simply shifting their budgets to different channels and trying out new strategies along the way. Among the top social networks, TikTok and Reddit are expected to see the most growth in the coming year. Adults users on TikTok now spend more time on the platform than adult users on Facebook, and TikTok is expected to have more Gen Z users than Instagram by the end of the year.
What does all this mean for ad spend, and how should businesses use this information to inform their holiday ad strategies?
For starters, more businesses are looking outside the box and exploring out-of-home (OOH) advertising opportunities in 2021. They're also changing the messaging of their advertising for the holidays. According to a survey by Reveal Mobile, 44% of SMBs increase their ad spend for the holidays and 86% change their ad messaging. Eighty-percent of SMBs already started that rollover prior to Thanksgiving. If you haven't made changes to your ad messaging just yet, it's not too late.
Supply chain challenges have made it harder for retailers to source enough products to sell, and many are still waiting on inventory to arrive. Even those businesses that have been successful in getting products in-stock may sell out before the holidays are through. The issues have caused more businesses to hold off on launching widespread marketing blitzes this year. However, as the holiday season kicks into full swing, now is the time to act.
Whether you've already launched your holiday campaigns or you're just now ramping up, consider these strategies to increase the return on investment from your holiday advertising.
13 Tactics to Boost Digital Advertising for the Holidays
1. Invest in New Channels
TikTok, podcasts, WhatsApp, Instagram — the opportunities for advertisers to invest in new channels are everywhere in 2021. Especially during the holiday season, it pays to get creative and invest in channels you haven't tried before. Audio advertising reached more than $18 billion in 2021, fueled by growth in podcasting and streaming audio. Podcasting is on pace to surge 32%, but that's not the only place where advertising can have a real impact.
TikTok is another channel that businesses would be smart to explore this holiday season. The company is continuing to roll out new advertising features designed to promote brand safety. With millions of young people using TikTok's mobile app each day, there is no better place to promote seasonal specials and events.
2. Develop Holiday-Specific Campaigns
Just because Facebook ads and Google ads are delivering good results, doesn't mean there isn't room for improvement. The holiday season is the time to go big with digital advertising and run holiday-specific deals. If this is a new area for you, the best way to start is by taking existing ad copy and tweaking it for the holidays. You can market the same product or service, and run ads on the same digital channels, while also adjusting your language and imagery to account for the winter holidays. This keeps advertising relevant and ensures that your ad spend isn't being wasted.
Another opportunity: Promoting in-stock items for the holidays with Facebook ads and Google ads. The real-time nature of this type of digital advertising means that it's easy to turn off specific ads if products go out-of-stock or shipping deadlines pass. Businesses maintain total flexibility in the ads they run, with targeted messaging design specifically to promote in-stock items that shoppers can purchase today.
3. Don't Be Boring
Holiday advertising should be fun and exciting. Now is not the time to play it safe. Whether your ad spend is focused on online or offline channels, keep in mind that consumers want to be wowed. Avoid relying on the same classic Christmas imagery that everyone has seen before, unless that's part of your strategic plan. Instead, it's better to take a fun, lively approach to keep customers guessing. Don't be afraid to show your brand's silly side, or softer side. With so many businesses vying for consumers' attention with Facebook ads, Google ads, and other forms of digital advertising, the holiday season is the time to break out of the mold and think creatively.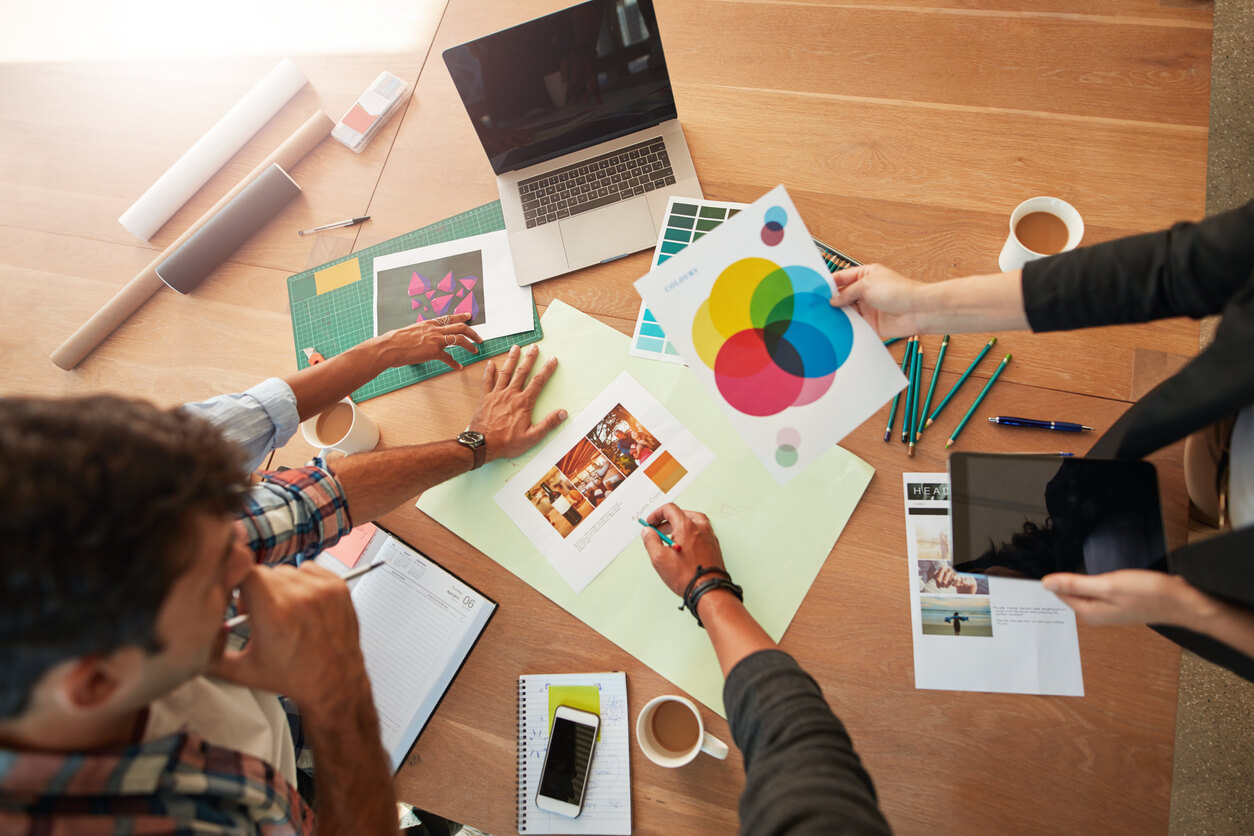 4. Think About Your Audience
One of the greatest features that comes along with digital advertising is the ability to target groups of consumers with specific messaging and promotions. Consider who you are trying to reach as you design your holiday advertising strategy. What are their likes, their dislikes, or their interests? Where do they live? Where do they shop? While the percentage of SMBs that use geotargeting for every campaign has decreased in recent years, use and perception around geotargeting are improving. Eighty-eight percent of SMBs now say they believe that this type of targeting is important to their campaigns.
When you are clear about the audience you're hoping to attract, you will have an easier time building the kind of creative campaigns that will actually get noticed. You'll also be able to budget for the holiday season, with a campaign spending strategy that is specifically developed to cut through the advertising noise. If your first attempt at capturing a specific audience falls flat, don't be afraid to pivot. With tools like Facebook ads and Google ads, you can easily adjust your messaging or edit your audience targeting metrics as new opportunities appear.
5. Host an Online Contest
Everyone loves to win. As we get closer to the 2021 holiday season, start thinking about growing your email list and running an online contest with the goal of increasing your database even more. When online contests are done properly, using the right platforms and taking advantage of cross-promotions through Facebook ads and Google ads, businesses can increase their social media following and engagement and set themselves up for a strong year going forward.
6. Increase Your Budget
Forty-four percent of SMB advertisers plan to increase their ad spend for the holidays. The reasons for this are two-fold. SMBs are looking to capitalize on the increase in consumer spending each December by reaching more people during the period when they are already inclined to shop. SMBs also appear to be increasing ad spend during the holidays in 2021, in an effort to compete with mass retailers like Amazon and Walmart.
During the 2020 holidays, we saw the majority of companies cutting back on ad spend in an effort to conserve cash. Now that we know consumers are back, and they are ready to spend, it's time to rethink how you're putting your ad budget to use. What impact might an increase in ad budget have on ROI? Would increasing your budget allow you to explore new channels or invest more deeply in digital channels that are growing in 2021? Sticking to the same ad budget for all 12 months of the year is not a winning strategy. To really ramp up your digital advertising for the holidays, you need to plan on increasing your budget and spending on more targeted outreach.
7. Adjust the Timing of Marketing Rollouts
An educated consumer is a happy consumer. Consider using a portion of your advertising budget to educate consumers on what to expect this holiday season. Out-of-stock messages increased 250% in October 2021 compared to pre-pandemic, according to Adobe Digital Economy Index.
The luxury retailer Coach recently launched a cross-channel campaign that involved sending notifications to shoppers about possible inventory shortages and shipping delays. E-commerce retailers like Pura Vida and Christmas Central have implemented similar strategies by adjusting the timing of promotions and reassessing when they launch Facebook ad campaigns to drive shoppers to their websites—and encourage shoppers to complete their transactions—earlier in the season.
Agility is the key. Be ready to adapt existing campaigns in real-time by switching on new ads when availability increases, or switching off certain Google ads when inventory gets low. The messaging in online ads can also be adjusted with cut-off dates to receive items in time for Christmas. The real-time nature of digital advertising is one of the many benefits that it offers over more traditional offline advertising channels.
8. Run a Social Media Awareness Campaign
The holiday season is time to analyze your existing social media strategy and look for areas for improvement. As you ramp up your digital advertising for the holidays, consider using social media to poll loyal customers and ask which products they would like to see restocked first. These types of market insights are invaluable, especially for small and mid-size businesses. Once those high-demand items are back in-stock, the brand can alert customers instantly via social media, email, SMS, and other marketing channels.
Review the accounts of any social media influencers you have partnered with over the past year, and don't be afraid to make a change if certain influencers no longer have values that align with your brand's. Organic growth is important year-around, but paid social media advertising is what we're really after in Q4. With Facebook ads and TikTok ads, you can reach high-value consumers with the type of targeted messaging that will actually drive engagement and action in real-time.
9. Supplement Online Advertising with an Offline Component
We know that digital advertising generates a higher ROI than offline, but that doesn't mean offline advertising doesn't have its place in a holiday ad strategy. Advertisers shouldn't allocate 100% of their budgets on channels designed to drive customers to their websites for holiday shopping. A certain percentage of most advertising budgets—at least 5% to 10%—should be allocated toward direct mail and other offline channels that will send shoppers into physical stores. SMBs should consider sending personalized postcards with limited-time deals as a way to bring consumers into their local store locations.
10. Spend in Markets Where Inventory Is Available
Thanks to the targeting capabilities on Facebook and Google, businesses now have the ability to connect with audiences in specific locations. Never has this capability been more useful than in the 2021 holiday season, when many products are unavailable in certain parts of the country. The automaker Cadillac is just one example of a brand that has adjusted its advertising messaging due to a shortage of vehicles this year. Instead of promoting the tagline, "Season's Best Sales Event," Cadillac is sticking with "Season's Best."
Rather than advertising products to shoppers who can't find them locally on store shelves, savvy businesses are adjusting their holiday outreach and avoiding advertising in markets where product inventory is low. With digital advertising, businesses can easily tailor content around products that are actually available, with the ability to ship and reach their destinations in time for Christmas.
11. Invest in Media Within Online Retailers
This is a tough concept for many advertisers to understand, but it's incredibly relevant this holiday season. E-commerce retailers like Amazon receive huge volumes of online traffic. Smaller businesses with websites can leverage the audiences that these e-commerce giants have built by investing in advertising opportunities with those retailers. For example, a clothing brand can gain visibility by placing advertising on Amazon's website in the month of December, when people are shopping for holiday gifts.
Shifting advertising budgets away from less effective platforms toward other online retailers is a risky approach for brands that have never tried this before, however those risks can lead to big rewards for businesses that are willing to take a chance.
12. Direct Dollars Toward Online Influencers
With Apple's privacy changes impacting the way advertisers track users on mobile apps, and many consumers now opting out of tracking online, businesses are able to collect less information about users' daily habits and interests. That makes sophisticated ad targeting more difficult to achieve. What's the solution? Increasingly, businesses are shifting ad budgets toward channels that rely less on user data, like influencer campaigns, podcast sponsorships, and television commercials.
As brands look for better ways to have direct one-on-one relationships with customers, they are coming to rely more on social media influencers. Influencers offer a direct line to customers. More brands are trying to leverage these endorsements as a less expensive alternative to digital advertising tactics like pay-per-click (PPC) or display advertising. A single inclusion in a popular influencer's holiday gift guide can lead to massive sales for businesses and brands in the e-commerce space.
13. Meet Consumers Where They Are Today
Life is not back to normal. Supply chain shortages are still in effect, many people are still practicing social distancing, and mask wearing is still the norm in some parts of the country. The best holiday campaigns take these differences into account, while still bringing people together through the spirit of the holidays. Pull from the viral trends on TikTok and integrate the buzzwords we've all become accustomed to in 2021. Relevant campaigns get noticed, and that's exactly what you want as an advertiser this holiday season.
Preparing your business to attract more shoppers is an investment worth making. Our world-class digital advertising team can hone in on your messaging and create the types of campaigns that drive real results.
CMDS also offers premier web design and consulting services to help you put your brand in front of the right consumers. We can walk you through the biggest opportunities in your category and then help you execute a strategic plan to grow your social, content and marketing initiatives.
Contact CMDS at 732-706-5555 to get started.