What Brands Don't Know About Posting On LinkedIn — LinkedIn Algorithm Explained 2022
Published Jul 14, 2022

Chris Mulvaney is the CEO of CMDS. I make things... I'm the creative entrepreneur with passion for (re)making brands and inventing solutions to problems no one knows exist.
---
Like it or not, LinkedIn has become an essential channel for brands. Mastering the platform as a B2B marketer means understanding the LinkedIn algorithm and adapting to its never-ending changes.
In this article, we're spilling the beans and sharing the top strategies most brand marketers don't know about posting on LinkedIn — from the best times to publish, to which specific keywords to use to beat the LinkedIn algorithm.
Let's get going.
LinkedIn 101: LinkedIn Basics for B2B Marketers
LinkedIn 101: LinkedIn Basics for B2B Marketers
Despite its reputation as a social media channel used primarily by job seekers, LinkedIn has actually grown to become much more. Since its launch in 2003, LinkedIn has amassed an incredible 830 million members. Today, more than 55 million companies are listed on the platform, putting LinkedIn well on the way to achieving its goal of getting 70 million companies onto the network and connecting professionals from all around the world.
If Instagram is about image and Facebook is about friendship, then LinkedIn is about connections. Business connections, to be specific.
Registered companies create pages on LinkedIn and post millions of job listings each day. Brands also use LinkedIn to introduce their companies to potential customers, find future investors and business partners, and position themselves as leaders in their respective industries.
LinkedIn has become a critical channel in B2B lead generation. More than two million posts, articles, and videos are published on the network each day. It also has a huge array of analytics and marketing tools, which brands can pull from as they work to refine their digital marketing strategies and generate even more engagement through the social channel.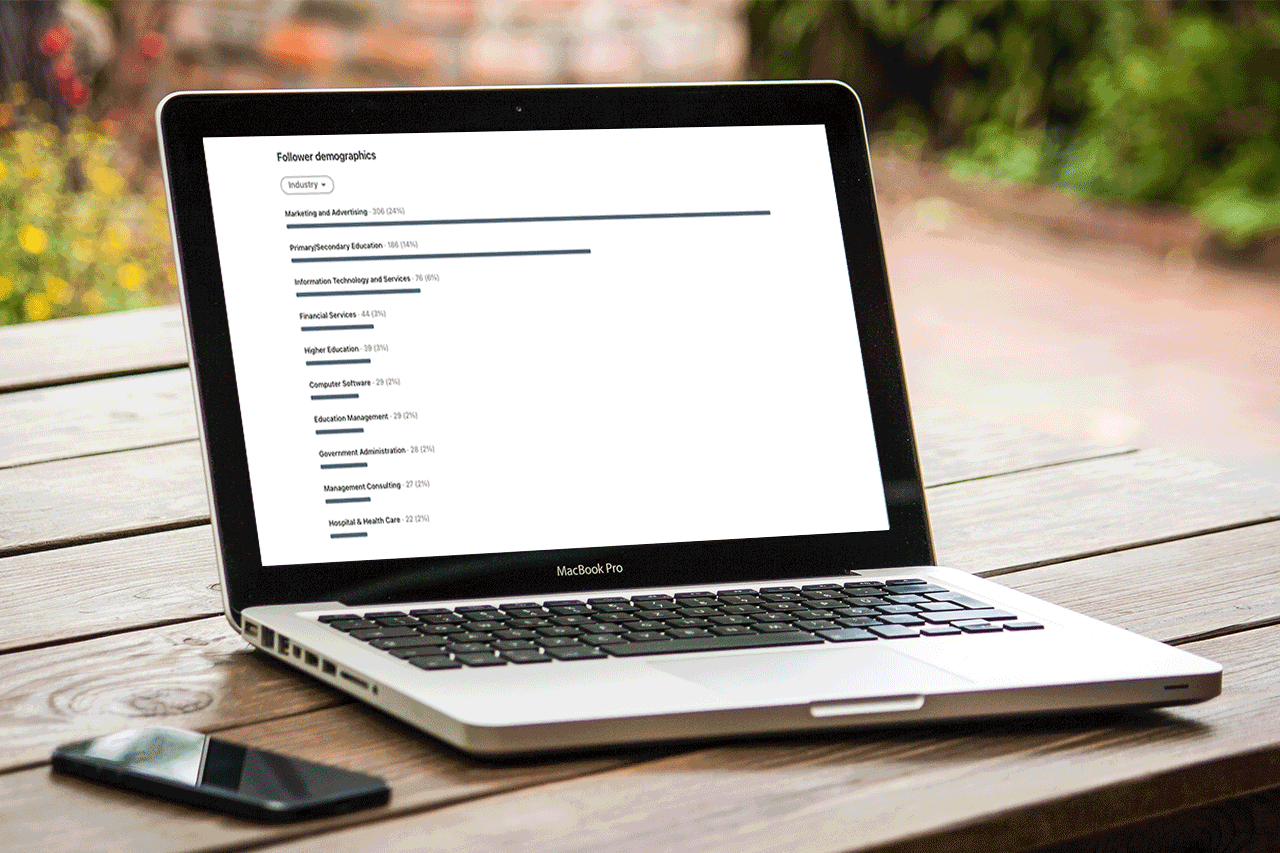 To put it simply, LinkedIn dominates the B2B marketing space.
The platform has become the de facto channel for brands that want to build the types of connections that lead to collaborations and sales.
With so much activity going on, how do brands stand out on LinkedIn? That's the million dollar question.
Having a clear understanding of how the LinkedIn algorithm works is the best way to position your brand for success on the LinkedIn platform.
What Is the LinkedIn Algorithm?
What Is the LinkedIn Algorithm?
The LinkedIn algorithm determines which posts show up when users check their LinkedIn feeds, and in what order those posts appear. To make those determinations, the LinkedIn algorithm evaluates every post published on the network. Each post receives a score. The LinkedIn algorithm then arranges posts based on those scores in descending, non-chronological order of interest for each individual LinkedIn user.
An average user's LinkedIn feed may be filled with posts from varying brands, people, and topics. There's a reason why feeds are set up this way. People use LinkedIn feeds as a way to participate in relevant conversations and topics having to do with the world of work. They want to hear diverse perspectives and learn about what's happening in other industries or parts of the world.
The LinkedIn algorithm team actively works to elevate relevant conversations they believe add value to the user experience and foster a sense of community within the LinkedIn network.
Understanding how the LinkedIn algorithm works, and then developing a cohesive strategy based on those principles, is the single best way to ensure your posts are seen by as many LinkedIn users as possible.
How It Works: The LinkedIn Algorithm Explained
How It Works: The LinkedIn Algorithm Explained
The LinkedIn algorithm is a more simplified version of Facebook's algorithm. LinkedIn's bots check each post for credibility and then determine its usefulness and relevance based on a set of pre-defined metrics.
Each post that's published on the network is divided into one of three categories:
As a brand, the goal is to get your posts into the "clear" category.
Getting around the spam filter in the LinkedIn algorithm is fairly simple. Just make sure to use proper grammar, avoid embedding too many links, and avoid posting more than once every three hours. Also, it's best to avoid using hashtags like #follow, #comment, or #like. Doing any of these things will get your post flagged as spam.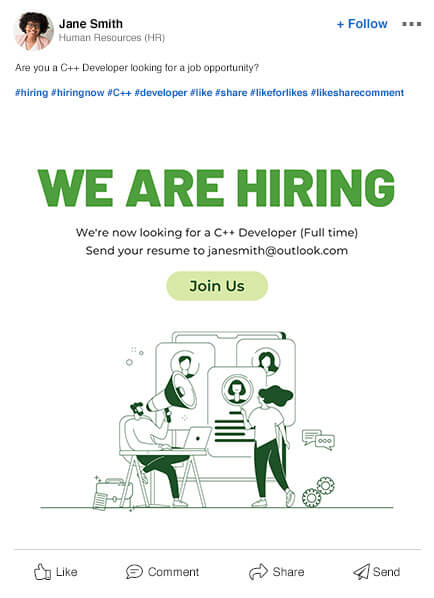 Once LinkedIn's bots have categorized a post, and it's been marked as "clear" or "low-quality," the post is sent to the brand's audience to gauge how users react and how much engagement the post receives. The fewer people who "hide" the post from their feeds or mark the post as "spam," the better. (The post is just sent to a small group of users during this first pass. A brand's larger base of connections won't see the post show up in their feeds until later on in the process.) For posts that are right on the bubble between "clear" and "low-quality," performing well during this initial testing phase is especially important if you want to beat the LinkedIn algorithm.
Based on the results from that test, the LinkedIn algorithm will "score" the content. Some actions carry more weight than others in the LinkedIn algorithm. For example, if someone clicks "share" on a post, then that's usually worth more than a "like." Each action is assigned a point value, and the more points a post receives, the higher it ranks in users' feeds.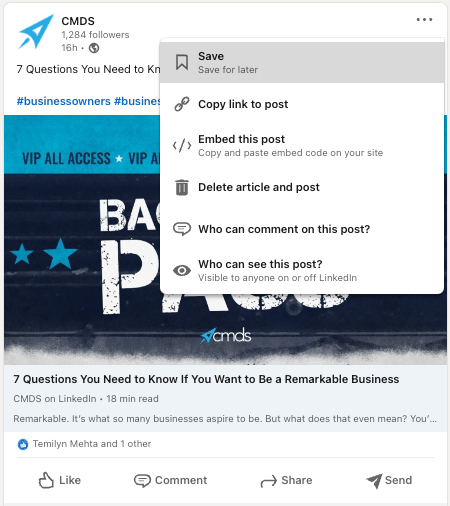 High-scoring posts are seen by most, if not all, of a brand's LinkedIn connections. The more engagement a post receives, the higher it ranks.
The best performing posts—the kind that people can't stop talking about and sharing—are also flagged by the LinkedIn algorithm and sent out to people outside of a brand's network. These are the posts that appear under the "trending content" tab on the LinkedIn app. Only the very best posts receive this treatment. To achieve this level of organic promotion is the gold standard among B2B brand marketers.
A Word on Relevant Content
A Word on Relevant Content
In 2021, LinkedIn launched a series of controls to make it easier for users to find relevant conversations. That rollout continued into 2022, with new features designed to create more personalized feeds and experiences for users.
An "I don't want to see this" option is now available to click next to each individual post. While this feature has been useful for keeping users' feeds relevant, it means brands are having to work harder to keep their posts out of the "low-quality" category. Posts that expressly ask users to engage via "likes" and "shares" have already started appearing less frequently in users' feeds.
Posts that contain political content have been hit especially hard by this update, so it's more important than ever for brands to consider the topic and tone of each post before hitting "publish."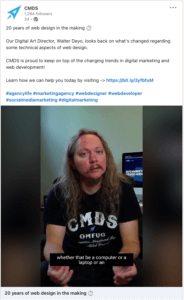 LinkedIn has indicated that certain posts and topics will receive more prominent placement on the platform. These include:
Topics that spark conversations around professional development and career growth.
News and insights from thought leaders and industry experts.
Authentic content that's useful for job seekers and professionals.
Avoiding the LinkedIn Algorithm Spam Filters
Avoiding the LinkedIn Algorithm Spam Filters
Having a post marked as spam is a death sentence on LinkedIn.
That might be a bit dramatic, but the sentiment remains.
A post's initial engagement determines whether it will pass the LinkedIn algorithm spam filter. The more users hide the post or report it as spam, the fewer people will see the post.
To avoid having your posts flagged as spam, avoid posting too much content. Posting too frequently (more than once every three hours) will cause users to hide your posts, even if they're clearly not spam. Regardless, there is a direct connection between the percentage of users who hide a post and the chances of the LinkedIn algorithm flagging the post as spam, so this is a factor you'll want to pay close attention to.
The next factor to consider if you're looking to avoid having your post flagged as spam by the LinkedIn algorithm is offensiveness. Is your post offensive? Could it be considered offensive by certain individuals? If so, LinkedIn is not the place to share it.
Finally, you'll want to consider relevance. Is the content in your post relevant? Is it information that your audience will be interested in? If it's not, then reconsider whether this is a post worth publishing on the LinkedIn platform.
What Brands Don't Know: Beating the LinkedIn Algorithm Explained
What Brands Don't Know: Beating the LinkedIn Algorithm Explained
Everyone wants their content to appear at the top of LinkedIn's feed. How do some brands manage to achieve this feat, time and time again?
The answer is simple: They understand how the LinkedIn algorithm works.
It isn't hard to beat the LinkedIn algorithm once you understand which factors it uses to determine post placements in the feed.
The LinkedIn algorithm decides what to show users based on relevance. Who a user follows, what types of content they comment on, and what types of content they share are all used to determine which posts appear in their feeds.
Timing Is Essential
The time you publish a post will determine how many people see it. The more people interact with a post in the initial hours after it's gone live, the greater the "score" the post receives from the LinkedIn algorithm. That leads directly to more people seeing the post in their feeds.
As a best practice, brands should plan to publish LinkedIn content during traditional business hours, when the majority of their followers will be awake and online. Many brands will use social media scheduling tools to ensure their LinkedIn content is published at optimal times, in different time zones.
Don't Ask for Likes
In an effort to reduce low-quality content, LinkedIn has started limiting posts that expressly ask users to engage with content via likes or reactions. Posts that are published expressly with the intent of boosting reach on LinkedIn will no longer be promoted on the platform. This includes posts with hashtags like #follow, #like, or #share.
The Type of Content Matters
Animated GIFs may get plenty of traction on Facebook or Twitter, but LinkedIn users are all about business. Because LinkedIn is a professional network, the LinkedIn algorithm favors written posts, job posts, and other content that's relevant to business growth.
Images, videos, LinkedIn article posts, external web links, and text updates are all acceptable, just so long as the content itself is related to LinkedIn's professional mission.
Pay Attention to LinkedIn's Publishing Platform
Brands with experience on the LinkedIn platform are finding that posts that originate from the LinkedIn Publishing Platform are circulating more widely on the network than those published through third-party tools.
Posts that originate from the Publishing Platform show up in the feed for a brand's connections and followers based on time, not just relevance. Depending on the time of day when a post is published, that could result in significantly more views during those precious first hours after a post goes live.
The LinkedIn Algorithm Favors Relevant Hashtags
Hashtags aren't just for Twitter. Recent updates to the LinkedIn algorithm mean hashtags are a bigger deal on the network now. LinkedIn uses hashtags to categorize content and find relevant posts for individual users.
Hashtags are a simple, easy way for brand marketers to increase the reach of their LinkedIn posts and discover similar content quickly through the platform.
Final Thoughts on the LinkedIn Algorithm
Final Thoughts on the LinkedIn Algorithm
Do you have a handle on how the LinkedIn algorithm actually works? Think you're ready to get your posts placed front and center?
Some posts on LinkedIn generate hundreds of comments and thousands of shares, while others are barely seen by anyone. Now that you know how the LinkedIn algorithm works, you should have a clearer understanding of why some posts gain more traction than others.
Engagement and relevance are critical to beating the LinkedIn algorithm. The reach of your network, the times when your posts are published, and your overall credibility on LinkedIn all play a role in your ability to optimize your posts and maximize growth via the LinkedIn algorithm.
The best way to learn what works on LinkedIn—and what doesn't—is to jump in and try. Start experimenting by publishing posts about different topics and at different times of the day. Make sure to use the LinkedIn Publishing Platform for better distribution.
Let us know how it goes! If you'd like extra help developing a LinkedIn strategy that actually works, contact our team at CMDS today.