If Your B2B Company Isn't Leveraging LinkedIn Newsletters, You're Missing Out Big Time!
Published Aug 30, 2022

Chris Mulvaney is the CEO of CMDS. I make things... I'm the creative entrepreneur with passion for (re)making brands and inventing solutions to problems no one knows exist.
---
Each day, we are collectively forming new ways to engage followers, clients, business partners, and more through the efforts of digital marketing outreach. It seems like as we finally begin to understand one form of digital marketing, another tactic appears. Nonetheless, it shouldn't overwhelm or frustrate you. Just look at it as another opportunity to get your message out there! The benefits will be well worth it.
One such tactic is LinkedIn Newsletters. LinkedIn's Newsletter Page was released in March 2022, and if you haven't noticed already, it is beginning to creep into our feeds and notifications. Since LinkedIn wants users to engage more on their platform, newsletters are more likely to be favored in feed exposure due to the LinkedIn algorithm. It's an easy way to provide engaging content to your industry connections, which in return makes you look like your industry thought leader (go you!)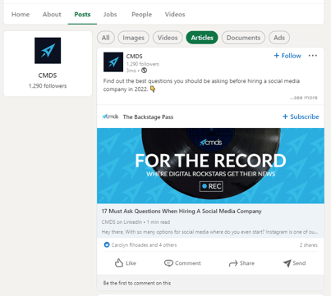 Our company, like any other business, engages with both current and potential clients through these forms of communication. Email marketing newsletters are no secret to a successful marketing strategy, so why not utilize a similar format within LinkedIn? With this new feature, newsletters create an optimal way to market to B2B or B2C client connections.
Did we mention LinkedIn has 830 million users? The potential for high traffic and sharing of a LinkedIn Newsletter creates a perfect marketing strategy to stay ahead of the competition.
So now that you know the value and opportunities that LinkedIn Newsletters provide, let's talk about the benefits it delivers for your brand.
Benefits of LinkedIn Newsletter:
Repurpose Content You posted an article, hey maybe even one called, "If Your B2B Company Isn't Leveraging LinkedIn Newsletters, You're Missing Out Big Time!" (just saying). That article can be repurposed as a LinkedIn post, an Instagram/Facebook post or story, a blog post, content for your email newsletter, or an idea for a TikTok video. The options are endless for repurposing this kind of content and helps you avoid recreating the wheel for ideas on what content to create.
Drive Engagement Not only can you repurpose this content, but you can increase engagement – whether it be comments, shares, likes, or direct messages. And don't get us started on the importance of these actions within the LinkedIn algorithm. That's a whole other blog.
Create A Bigger Online Presence Not having an online presence is like having a brick-and-mortar store with no signage. You wouldn't do that, so why are you not taking advantage of pushing your digital signage on a FREE platform (forget about printing costs!)? An empty, desolate LinkedIn page may appear sketchy, amateur, or may turn clients away. To put it simply, you're perceived as "not legit." Online, less is not more, especially when you're being looked at for industry aid and advice.
Building Your Company's Brand A picture may be worth a thousand words, but helpful, intriguing, and relevant articles go a long way. Think of how much a personality can shine through in your writing. Providing your clients with a newsletter is just like talking to them over the phone, but you only have to do it once, and then invite your contacts to subscribe.
Creating Relationships Take everything we've said so far into account: Engagement, creating an online presence, and building your brand. Altogether, this is a perfect strategy for clients and businesses to build a trust-filled relationship with you and your business. Being able to rely on a company that remains diligent with articles (and posts, updates, etc) creates positive rapport and strengthens relationships. It makes you a trustworthy brand.
It's important to realize exactly what B2B marketing is. To put it simply, the model is built on lasting connections. As we discussed, LinkedIn newsletters can help strengthen and build existing relationships in four unique ways.
Ready to start building those connections? Let us show you how we do LinkedIn newsletters and subscribe!
---