{PPC Management Company}
NJ Marketing Agency CMDS enters into Google Partners Program
Being a Google Adwords Certified agency is nothing new for CMDS. The tests to become certified used to be all but trivial. But over the past few months, Google has rolled out a new Google Partners Program that eliminates the certification program and helps agencies to reassure clients that they are dealing with a dedicated and trustworthy company.
CMDS invests time and money into the skills and development of their employees, in an effort to offer their clients advanced account maintenance and recommendations within their marketing campaigns. These techniques are then applied to bring maximum results to our client's campaigns.
Google states, "Qualified Individuals and Qualified Companies within the Google Advertising Professionals program have met Google's requirements to attain this level of recognition. They've managed client AdWords accounts for at least three months with a minimum spending level; in addition, Qualified Individuals have passed the official exam to demonstrate their in-depth knowledge, and Qualified Companies have several Qualified Individuals on staff. Because achieving Qualified Individual or Qualified Company status is no easy feat, we reward these professionals with an official program logo and Professional Status page which tout the title."
Passing the Google Partners exam signifies that through extensive studying and experience, a company like CMDS is more adept at providing a client with the best online marketing practices. Ultimately, this will help to improve your campaign performance across the Google Search and Display Networks.
Contact your Google Partners today
We would love to chat! Contact Google Partner CMDS today!
You can let the SEO Experts and PPC Experts fight it out, but PPC Experts may win.
Ah yes… the age old question… SEO or PPC? Does it really even matter?
Yes, it does. It used to be that SEO was the best option for online marketing as it yielded the best/most traffic for the dollars spent and effort. You could market your website with tons of articles and cast a wide net of opportunity to drive traffic. That still holds true for some niche industries. However, with several factors which I'll point out below, you'll see why paid search seems like a better choice.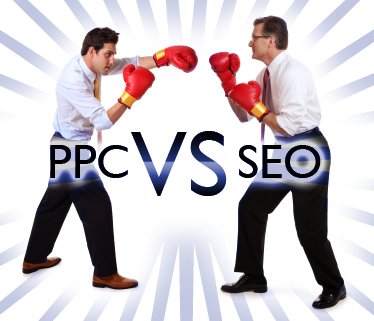 Just a disclaimer before we proceed: my agency still believes that both SEO and PPC are worth persuing when marketing your product or service online. We have both SEO Experts and PPC Experts, and have been doing both since they first existed. We see tremendous value in both, and usually it all comes down to what you are willing/able to invest.
Why Google Adwords PPC Marketing?
Since October of 2011, Google decided to update their privacy policy which can block a tremendous amount of keyword data. In some cases, we've seen 60% of our keyword data hidden because of this. When focusing on SEO or PPC, you can see why knowing exactly what keywords are best performing really does matter. The great thing about Google Adwords is that the "not provided" keyword issue is no longer an issue here. We're able to see all the keywords that users utilized when coming to our website via PPC because we've paid Google.  This is the number one reason why we always recommend using Adwords at any capacity. There are many more advantages to using Adwords OVER organic SEO, and I'll explain them below. Even though our agency makes more money on SEO, we'll always recommend going to some sort of paid search campaign. 
2 BIG reasons why Google Adwords PPC rocks:
Create and manage large lists of keywords
One of my favorite advantages of using Adwords is that we can create HUGE lists of keyphrases. Depending on client budgets, we create ad groups each holding around 20 different phrases of focus. At the end of the day, our campaigns hold thousands of keyphrases that are super relevant and specific to the subject we are marketing. This enables us to drive quality traffic for a much lower price. It's all about easily organizing keywords into Google PPC keyword groups & creating targeted and effective ads for each keyword group.
Drive more business to your site through more highly qualified traffic
The more relevant the ads/keywords/visit are to the landing page of choice, the higher the quality score will be, and thus, the lower the cost per click. With all campaigns, we write better, more relevant AdWords landing pages which allows us to get a much higher quality visitor. The better the quality of visitor, the more opportunity we have to convert that visitor into a lead. With conversion tracking installed, we can see exactly what keyphrases are converting visitors into leads and eliminate irrelevant clicks and wasted spend by implementing negative keywords. We can then reallocate the dollars that weren't working efficiently towards keyphrases that are working great!
The Bottom Line
If you've never had success with Google Adwords or other PPC programs, it's most likely because the wrong person or company was managing it. It's not a simple task if you aren't a technical, marketing focused, entrepreneur-minded human. The tests alone to get Google Adwords Certified are amongst the hardest tests to pass today. There are constant updates being made to Google Adwords, and new opportunities rise daily within each account. 
Once you've got keyphrases you KNOW convert and work for your business, you can focus on SEOing your website for those proven phrases to rank high organically on Google. That's where the SEO Experts can take the reigns and start driving even more opportunities to your website.  
Today, every dollar spent is trackable against an actual new business acquisition. Every tool in your marketing tool kit will not be as quantifiable as Google Adwords. It's the best tool that exists today to drive the best business to our bottom line. 
If you would like to learn more on how we can help you attract your ideal client types and drive more business, please call CMDS at 732-706-5555 today. 
Ever wonder where most people click when using google?
Below is an example of how important it is to be at the top. Using ppc or paid search in google is a great way to put your company at the top of Google for the ideal key phrases you would like to rank for. It doesn't just end there though. A lot of careful decisions need to be made in order to spend dollars wisely and gain conversions.
Heat Map of Google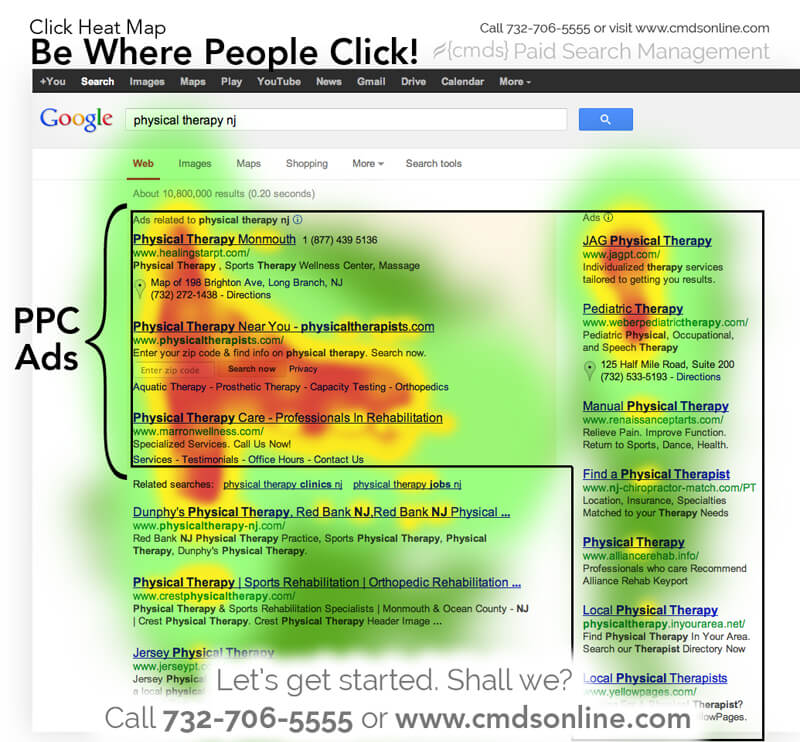 Pay Per Click (PPC) is a form of internet advertising where the advertiser "bids " on specific keywords for the best placement in the "sponsored listings " section of pages, most commonly found on search results pages, either on the top in a shaded box or to the right of the search results.
A PPC management company views a PPC campaign as part art and part science. Whenever possible, it is best to consult with an internet marketing services company before making potentially costly mistakes with a PPC campaign.
Read More

»
Learn the major differences between a PPC Management Company and an SEO Firm
If you are new to the world of Internet Marketing, then some of its concepts may be difficult to understand. Take for example PPC (pay-per-click) and SEO (search engine optimization). Most new business owners quickly catch on to the idea that they need to get good rankings in Google in order to drive more prospects to their websites. What most new business owners are slow to catch is that Google's results are populated by paid listings and free listings.
When you observe Google's search results, if there is a yellow background box at the top of the page, the listings in that box are paid listings, put into effect by a PPC management company. In most cases, you will also see a set of listings on the right hand side of Google's search results page. Those listings to the right are also paid listings, done by a PPC management company. In all cases, you will also see listings on the left hand side of the page, under the yellow box – if there is a yellow box. Those listings on the left hand side of the page – not in the yellow box – are free listings.
To rank well in the yellow box with the paid listings at the top of the page and in the listings on the right side of the page, you must pay for those listings. The PPC management company bidding the most money for placement on specific keywords will get those top listings, based on an auction system. If you want to pay for listings in Google, you must use their interface at adwords.google.com to register, bid and pay for your clicks.
Yes, you are paying for clicks or individual visitors to your website. Yes, you are competing against other people bidding on the same keywords. Yes, PPC listings can get expensive, and sometimes they can be a money pit if not researched and implemented properly, but at other times they can be an excellent investment of your advertising budget.
If you want to get your website to rank well in Google's free listings on the left hand side of the page, then you will usually need to invest in SEO (search engine optimization) to make that happen.
If you need immediate traffic and you need to measure your return-on-investment (ROI) for every dollar that you spend promoting your website, then you definitely need to be using a PPC management company. If on the other hand, you have the money to spend and the time to see your investment through to the end, then SEO will be the better route to go. Most companies that pursue SEO continue to utilize PPC until which time they are able to accomplish the highly-coveted top listing in Google's free listings. With SEO, you could spend thousands of dollars per month to implement strategies and methodologies to push your website up in Google's free listings. It may even take years (based on competition) to see measurable results for your target keywords. If your SEO-investment is placed with a proven seo company, and you eventually reach the top of Google's free listings, then you may not ever have to spend another cent for other advertising methods for as long as you remain in business.
When it comes to search, Google is the monster house, serving an estimated 80% of all traffic derived from search engines. And if your website is ranked #1 in Google for your target keywords, then there is a good chance that the traffic derived from that top listing will send so much traffic to your site that you will just have to focus on maintaining that #1 position.
A wise investor in a SEO company will look beyind the coveted #1 listing to figure out which keywords will deliver the most sales conversions for a top listing. Sometimes #2 will give you as much traffic as a #1 listing, but the important thing is to only spend your SEO dollars on keywords that will return targeted traffic, ready to buy what you are selling.
SEO is not a process you should want to undertake, without first understanding which keywords will drive sales to your website. Fortunately, most top-tier seo companies will be willing and able to do your keyword research for you. Not only will they help you rank well for your targeted keywords, but they will also help you to understand which keywords will be worth getting ranked for.
In short, yes using a PPC management company can be expensive, but it is the only form of search engine advertising that can put potential prospects on your website TODAY – in only a few hours time. SEO can also be expensive, but it is the only form of online marketing that when done well may not require much additional expenditures down the road. If used unethically or incorrectly, both PPC and SEO could be a money pit. If used ethically and properly, both PPC and SEO could be the best investment that you ever made in your online enterprise.
If you don't know this already, web site conversions are essential to all online businesses. There's several methods used to drive visitors, however PPC campaigns are increasingly popular. This is only a step to get your product or service noticed on search engines like Google, whose AdWords program still remains the most popular PPC ad service, but getting visitors to buy is the true challenge.
With over 10 years experience in online marketing, our PPC management company still believes that PPC has the best tracking abilities of any type of marketing today. With our robust reporting capabilities, we can see intypeation for all our PPC strategies, track where your customers are coming from, what your ideal customer does once they get to your web site, and which visits convert into real sales.
An effective PPC management company takes into consideration what your prospective customers are looking for, and how they search for what they want and need, to increase your web site conversions.
Your web site conversion rate is the percentage of visitors who complete a purchase on your web site. A well-written and set up campaign devised by www.CMDSonline.com can significantly increase this figure by using keywords and key phrases that an real customer looking for your product or service might use instead of technical jargon or other industry-only topics.
What sets CMDS apart from all other PPC Management Companies is the fact that CMDS provides clients with far more than just ppc management. We've got marketing smarts that help us position our clients in the best light possible.
CMDS utilizes advanced forms of PPC management and integrate both search and display network ads within Google Adwords, while focusing on page optimization. With SEO becoming more costly, PPC pricing has been driven up. With proper management, your PPC campaigns can cost less and yield more results for your company.
By highlighting the proper keywords in your PPC ads and linking them to the corresponding pages in your web site, you greatly increase the chance that the customers searching for what you have to offer will find your online business and not be confused or disappointed once they enter. Any reputable PPC management company will advise their clients to combine their PPC campaigns with on-web site optimization and an easy method of conversion.
On the other hand, a poorly structured PPC management campaign can cost you both dollars and customers. Your ad might not appear under the proper category or search term on Google, or potential customers clicking on it might feel misled or frustrated, since what they were looking for was not what they found on your web site.
Don't make the mistake of thinking that simply attracting visitors to your web site is enough to boost sales. Potential customers won't spend time perusing your pages for what they wanted; the web is about instant gratification, and there are too many other web sites for them to visit.
As a business owner, you don't like to have your time wasted, and neither do your customers. A well-written PPC ad ensures that your customers find what they want and need quickly and easily, make purchases and increase your revenue.
Contact CMDS at 732-706-5555 to learn how we can help.
Chances are you've heard quite a bit about PPC management companies. Maybe you have already begun a Pay-Per-Click campaign like Google AdWords but are unsure whether you need expert assistance. There are several questions business owners should consider when hiring a PPC management company to monitor their online advertising.
What are you hoping to achieve from a PPC Management Company?
Besides increasing your revenue, Pay-Per-Click campaigns like Google AdWords will also give you more prominence on the web, and if all goes right, many more customers to serve.
If you are looking to grow your business, a well-run PPC management campaign overseen by a reputable PPC management company should be an essential component of your business development plan.
What is your budget for a PPC Management Company?
No matter how much you have to spend, proper PPC management is necessary to ensure that you are getting the most value for your dollar.
When formulating a PPC campaign, a PPC mangement company analyzes your keywords and invests your advertising funds in the ones most likely to bring in quality clicks — customers who are truly interested in your product or service. They will create ads to reach your target demographics, and evaluate and modify your ads to secure you the best placement possible. Each bid is carefully considered and monitored in order to give you the greatest ROI.
Do you have the resources to do your own Pay Per Click Management, or should you leave it to a professional PPC Management Company?
There are many tools available to help you learn about PPC management, but often, the learning curve is steep and takes away valuable time from your other essential tasks. By outsourcing PPC management to an PPC mangement company, you can devote your time to other aspects of your business, secure in the knowledge that you have experts working on your behalf to increase your revenue.