How to Generate the Engagement Facebook's New Algorithm is Looking For
Published Feb 5, 2018

Chris Mulvaney is the CEO of CMDS. I make things... I'm the creative entrepreneur with passion for (re)making brands and inventing solutions to problems no one knows exist.
---
By now, you've no doubt heard the news that Facebook will soon be updating its algorithm to prioritize content that encourages interaction between users. Posts that generate 'meaningful engagement' will be most likely to get top billing in users' news feeds, while those that don't will see their organic reach plummet.
Brands everywhere have been forced to reassess their social strategies in the wake of this news in hopes of figuring out how to get their audiences interacting.
5 Ways To Generate Engagement That The New Facebook Algorithm Is Looking For:
1. Fine-Tune Your Approach
If you've been following a Facebook strategy up to now, you've surely already been working to drive engagement with every post. This latest update might simply require you to adjust your approach a bit. Instead of likes, engagement is the name of the game, so think of every post you make as a conversation starter. Spend time and effort coming up with ideas that will get people talking. The good news is that as a whole, we are a narcissistic bunch, so most Facebook users are happy for the opening to share their opinions, experiences and knowledge.
2. Post Less Frequently
It may sound counter-intuitive, but hear us out. Miracles don't happen every day. Churning out killer content on the daily may just not be a reasonable expectation–but coming up with a few winning concepts each week might be more realistic. In light of the Facebook update, brands need to allow themselves to focus on posting quality over quantity. Pages that post duds will surely be penalized by the algorithm, so following a strategy of posting just to say you did will likely get you nowhere fast.
3. Research
If the key to a successful Facebook strategy is getting your audience talking, it pays to take a look back at your analytics and Facebook insights to see what's worked in the past. There is no magic answer that will work for every brand and every audience, but figuring out what has previously elicited a response in your following is one of the best predictors of what they'll respond to going forward. Now more than ever, recognizing what makes your audience tick is critical to your Facebook success.
4. Go Live
If you've been camera-shy up to now, it's time to get comfortable and embrace Facebook Live. According to Mark Zuckerberg's update announcement, native live-streaming videos 'often lead to discussion among viewers on Facebook—in fact, live videos on average get six times as many interactions as regular videos.'
It's clear that the Facebook algorithm gods will continue to look favorably at Facebook Live video as a powerful engagement tool. Stream a question and answer session, give viewers a behind-the-scenes tour of your operation, or share almost anything else you think your audience will want to watch and talk about—in real time.
5. If All Else Fails, 'See First'
Despite the algorithm change, if your audience really wants to make sure they will keep seeing the content you're posting, you can remind them they still have the option to choose 'See First' in their news feed preferences. This lets the Facebook algorithm know that they want your content prioritized in their news feed above all else.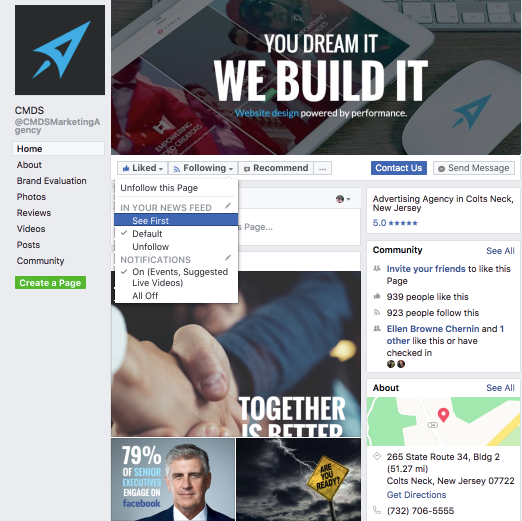 Is Your Brand Prepared for the New Face of Facebook?
Let the social media marketing professionals at CMDS help your brand review and revise its social media strategy to generate the meaningful interaction that Facebook is looking for. Call us at 732-706-5551 to make sure your brand is prepared for the new face of Facebook.