2017/05/25
2018/06/04
6 Common Social Media Marketing Mistakes That Our Consulting Firm Sees Startup Businesses Make (and What to Do About Them)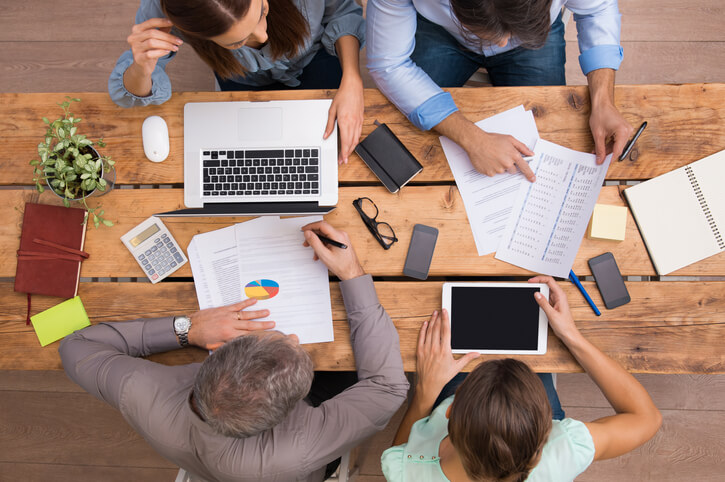 While some brands thrive online, others (commonly startup businesses) are still trying to figure out the best way to leverage this power tool. Savvy businesses tend to have a good understanding of the accepted rules on what to share and when, but even then…they make mistakes. From epic fails to viral successes, our startup business consulting firm in NJ has seen it all and we have the inside scoop for you.
Once you fix these social media marketing mistakes (especially #1 and #3), you'll not only start getting a stronger engagement with your growing customer base —but you'll be adding followers FAST! So, before you share your next status update, ask yourself if you're guilty of any of these common, startup business social media blunders.
The Mistakes (To Avoid)
Starting Without a Plan- Starting without a social media strategy whatsoever is the most common (and worst) mistake we see startup businesses make. It's critical to identify where you're going to establish a presence, conceptualize measurable goals, create a distinct social media voice and establish a calendar.
Posting Randomly- Posting blindly will get you nowhere, fast. Set a clear goal, analyze it and then refine it. The key to effective social media marketing for startups is defining target customers. Once you know who they are (and what they want), selecting the right content for them is easier than you think.
Not Committing to the Plan- We get it, it's very exciting to get started. But too often, many startups end up abandoning their strategy in the process. One moment they're posting on Facebook as planned, then they end up mindlessly creating accounts on Pinterest, Instagram and Snapchat (without even thinking twice about it). The next thing you know, they're overwhelmed and have abandoned all social platforms completely. Don't let your enthusiasm fade, but remember, you have a plan in place for a reason. Your efforts shouldn't feel like a sprint…more like a marathon.
Overwhelming Your Audience- While not posting enough can be bad for business, posting too often can also be a major turn-off. Posting one after the other within a few minutes (or even hours) can be a deal-breaker for fans and even cause your rankings to take a nose dive. Space out your posts to avoid overwhelming and spamming your fans.
Boring Your Fans- No one ever wants to address the elephant in the room. But what if you're boring your audience and don't even know it? Relevancy is the key to keep customers engaged, so post engaging content that will keep them coming back for more.
Blowing Your Own Horn- Finally, the last mistake we commonly see startup businesses make is being too pushy. It's good to be confident, but you want to sell your brand…without pushing a sales pitch. Create messages that fit directly to the needs of your fans; be on their minds (not their nerves).
The (Harsh) Reality
Warning: Things are about to get very real.
While you sit around contemplating getting started, your competition is smiling, hoping you'll delay even more. And if you fail to captivate your customers, you'll lose. But don't lose heart.
Enter: Opportunity to grow.
The Opportunity (For Growth)
True, managing social media takes hard work and consistent posting. But, you have the chance to be recognized by potential customers, clients, industry leaders and the community as the go-to resource and value provider. And, considering everything you do on social sites like Facebook and Twitter is documented on Google, it has the power to directly affect your ranking in a positive way.
Get Off the Social Sidelines (Get in the Game)
Wondering how to get started? First, identify what sets your startup business apart from the rest that are already out there. What is your back-story? How is your product or service better than the competition; how can it solve customer problems? And, what do you stand for; what's your mission?
Use the answers to these questions as inspiration to brainstorm several messages about adding value. Then hit on your fans' emotional hot buttons (like needs, fears and aspirations) to influence the purchase process. Become their solution.
The Missing Piece of the Puzzle
It's not simply enough to have the best trendy product or new service if no one knows you're there. Content marketing is a huge piece of the missing puzzle piece that connects social media with customers. People want to be entertained, become inspired, learn new things and trust the companies they buy from. By posting quality blogs consistently, your website becomes turbocharged with healthy SEO and you become a valuable resource people can turn to when they need help.
Finally, remember that the way you position yourself outside of social media is just as critical to your success on social media. Your website design, your blog, your newsletters, your Google ranking, your customer service and reputation are all important elements that affect your social media status.
We Are Your Rockstar Startup Business Consulting Firm in NJ
In our distracted environment, brands only have an instant to communicate, convince and convert. You must spotlight your unique advantage, make it count and make an impact. Fast.
Stop waiting on the sidelines. Get in the game and get social with CMDS. >>
CMDS is a full-service startup business consulting firm in NJ with the experience and rockstar team to help brands rise above the competition and increase interactions with customers. Our social media agency works with hundreds of businesses – worldwide to New Jersey.