{seo}
Improved ROI, Low Cost – Thanks SEO!
How will you spend your marketing dollars in 2012? If you are in-line with Fortune 500 companies, then your spending will shift to social media, SEO, an increase in funding for your email marketing campaigns and the addition of mobile marketing. Does this mean abandon your print marketing and direct mail completely? That answer will depend on how your 2010-11 numbers have been doing. If print and direct mail have been working, then keep them, but by 2013 you may feel a little left behind as these methods are being antiquated by a push to all-web-campaigns. Low cost, maximize results; that's what internet-based marketing campaigns provide and that means tighter cost control, improved ROI and increased efficiency.
SEO and Mobile SEO is King
What will be the driving trends in 2012? In this tumultuous economy, consumers now treat the internet as a staple utility and cable television as a luxury. This points to television advertising campaigns dropping and those funds being put into better SEO for online campaigns. The same is true for B2B. If you want to reach someone nowadays, the best way to do that is through online means. Websites, emails, texts; they reach your customers in their home, their car, and the office. Web-based campaigns also produce faster results that are easy to quantify directly.
In 2012 more advertising dollars will be spent on social media marketing than ever before. Why social? The biggest reason for increasing social media marketing budgets is the near eradication of lost opportunities. The internet is on 24/7 and if you are a B2C or B2B, your customers are online. With the right SEO, web presence and social media campaign, your customers will always be able to find you or find out about you. No other type of marketing makes that possible.
Proven Results? Yes, Please.
Expanding social media and digital marketing in 2012 means ditching print and spending on amazing SEO – this means SEO with proven results. This means, not SEO that is from a fly-by-night, but from a professional seo company that knows how to integrate SEO with social media and has developed strategies that produce measurable ROI, increased traffic and lead generation. Marketers are aligning their objectives and allocating their dollars with high powered SEO because social marketing and SEO have become so tightly woven that they are now inseparable.
Print marketing is nearly extinct and with new marketing tactics in mobile search and organic placement, SEO has become the new go-to venue. In-house SEO can no longer sustain the demand in 2012. Only a professional SEO business has the ability to execute the mid-sized and large-scale campaigns that will be needed to compete in the upcoming year. If there was any question of how much to allocate to SEO, web and social media, then a good guide would be over 50% for 2012 and 15% more than that in 2013 with the addition of video campaigns.
If you want to be found on the Internet by your potential customers, you must take steps to ensure you are optimized and putting your business in the best possible position to succeed.
People in the online marketing industry know the difference between paid and organic search, but for those of you who do not, paid search is when a company pays to be listed at the top and sides of search result pages. These advertisements land at the top and sides when a certain key phrase(s) are used to conduct searches through the search engine. For example, on Google, the paid search results show up in a shaded box at the top as well as on a side bar on the right side of the screen.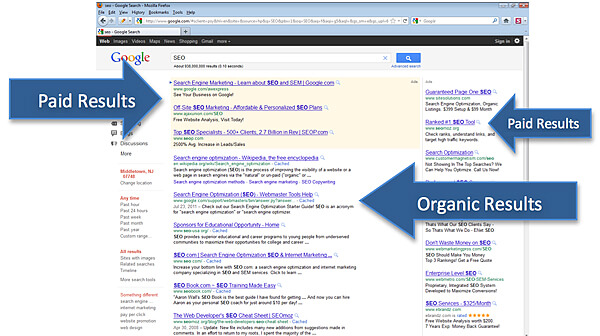 Organic search results are below the shaded box of paid results. Organic search rankings are based on content quality, the relevancy of keywords strategically placed throughout the site, quality inlinks, and a slew of other elements. A website that wants high ranking results on organic searches must keep a few things in mind:
Tip 1
It is important to generate a list of keywords or key phrases you want to be found on (the more specific the better). After you have done that, you must put those keywords and keyphrases throughout the content of your site. Properly embedding keywords/keyphrases into the site code and body content will help search engines to place your site higher on specific results pages based on the query. The more relevant content you have for a search engine to find, the greater the odds of your site being ranked high in organic search.
Tip 2
In-linking is also very important. Linking with other relevant and reputable sites in the same field will give your site more "link juice". The better the links, the more link juice you gain, and the higher you will rank in organic searches. This is the backbone to all good SEO practices.
Tip 3
Organic rankings are trusted more often by consumers. Consumers feel a similar way about organic rankings as they do about getting a recommendation from a stranger about a great restaurant over the recommendation of an advertisement from the venue in question. Consumers often feel organic rankings are less biased. With that being said, this is not the case for everyone, and there are still benefits to paid search.
Regardless of your strategy, creating a successful web presence for your brand is important. If you can get ranked on the first or second page, your chances for success grow exponentially. Using effective search engine optimization techniques can help you reach customers you never thought possible. CMDS is an industry leader and can help you grow and market your brand. Call CMDS to get started today.
Middletown, NJ (September 13, 2011) – CMDS a full-service, online marketing agency, was recently retained by Med-X Medical Management Services to redesign the organization's website as it expands its national footprint.
Med-X Medical Management Services is one of the nation's leading providers of cost-effective, non-emergent transportation programs. The company recently received a highly regarded URAC accreditation and now manages a national network of transportation providers.
Justin Derkack, Senior Account Executive at Med-X Medical, noted that the company has had the same website since its inception seven years ago when it was a small, regional service provider. Now, however, with the company's significant growth, accreditation and national profile, a newly designed website was a pressing need.
"With growth, there is a need for better communication among our network of transportation providers, clients and consumers," said Derkack.
"Our new website needs to be a reflection of the company as it is today and offer more interactivity. We felt CMDS and their Healthcare Division were uniquely suited to the task."
For example, now that the company has a growing client base, many of its forms will be available in digital format via the website to save time and offer greater efficiency. The company will also focus on search engine optimization of the site to continue growing its national profile and drive business.
Chris Mulvaney, CEO of CMDS noted, "Many companies find themselves in a situation similar to Med-X. As they expand, they need to tap into the power of the Internet to streamline their process management and more accurately showcase the range of their goods and/or services. We're delighted by the fact that Med-X chose us to help them."
Since 2001, CMDS has formulated a successful approach to online marketing that incorporates three key elements. The company offers website design to help clients attract customers with a sleek web site that's striking and engaging.
To get the most out of that website, they offer seo services to get them ranked high on search engines so they rise to the top and outperform competitors to drive sales.
They are also a PPC management company that creates captivating ads that are rich in calls to action.
To date, CMDS has built its business around the consumer packaged goods, real estate, construction and healthcare industries.
About CMDS
CMDS is an award-winning full service marketing agency, web design company, and SEO Agency dedicated to branding businesses. Headquartered in Middletown, NJ, CMDS has been offering superior services including website design, online advertising, marketing services and search engine optimization since 2001. For more information, contact Christopher Mulvaney at (732) 706-5555 or visit the company's web site at www.cmdsonline.com.
Google's Panda Update Changes How Successful Online Marketing is Done
Panda, also known as Farmer, is an update that Google came out with in March of 2011, which reconfigured millions of search results. The changes pushed a number of websites down in the rankings, pushed others up in the rankings, and people have been asking questions surrounding the implications of these changes ever since. Google's recent SEO updates have left an indelible mark on the web space and will forever change how sites are optimized and rated.
In the ever-changing technology realm, all components are constantly in motion. The only way to survive is to adapt to the rapid shifts that regularly occur around you. CMDS unlike many companies will no longer embark on a one-dimensional approach with clients, which only addresses article writing or link building. CMDS has always championed a multi-faceted approach that uses multiple strategies in a cohesive way to ensure the best possible results and ROI.
An engineer named Navneet Panda works at Google and is making quite a name for himself. He was part of a patent application that found a way to scale some machine learning algorithms. Before Panda, machine learning scalability (a branch of artificial intelligence in which a computer generates rules underlying or based on raw data that has been fed into it) at Google was at level X, and after, it was at the much higher level Y.
The impact of this shift is the ability for Google to not only assess the amount of traffic that enters and leaves a site, but also what the quality of that traffic is. Aaron Wheeler, a blogger at SEOmoz, put this concept into laymen's terms explaining, "What Google can do is take a bunch of sites that people like more, and a bunch of sites that people like less (and when I say like, what I mean is essentially what Google's quality raters determine makes a good site) and use the data to rate the sites according to more than just keywords. Google can say, 'Hey, you know what? We can take the intelligence of this quality rating panel (how trustworthy, credible, secure, etc. they believe a site is) and scale it using this machine learning process.'"
In addition to the classic SEO strategies such as building content, embedding researched keywords, and linking to other credible sites, the Panda update is forcing SEO experts to consider other things. The overall experiences, as well as how likeable and trustworthy a brand is in the eyes of the consumer are all factors that can now affect a site's rating.
Wheeler also made a very poignant statement when he said, "It is almost like the job of SEO has been upgraded from SEO to web strategist. Virtually everything you do on the Internet with your website can impact SEO today."
CMDS has always worked to create top quality websites for their clients to optimize the user experience. The attention to detail and understanding of the experience through the eyes of the customer has enabled them to win awards repeatedly. Their ability to effectively position and market their client's brands will help CMDS to move their clients effortlessly into this new age of SEO.
When launching or re-launching a website, you often think about things like usability, great copywriting and overall design. You'll talk to your website designers about brand colors and identity, while you'll talk to your copywriters about tone and personality.
Read More

»
SEO (Search Engine Optimization) and online marketing today go hand in hand. When a company decides to dive into these areas as a way to improve their market reach, it is a smart idea to have an SEO agency that has a history of success.
When a company first decides to work with an SEO agency to have their message heard online, a major first step is to review the content currently on the company's website. Is it focused? Does it include important keywords that are often searched? Is there a linking strategy in place? It is also a good idea to complete a competitive analysis to compare the search results of the competition. This will help the SEO agency develop a keyword ranking strategy for the company's website.
A keyword ranking strategy is an important part of developing a SEO marketing plan that will focus on organic (also called "natural " ) search results. If the company is looking for a "jump start " then that information will also prove valuable if the company would like to have a corresponding pay-per-click (also known as "PPC " ) campaign.
Implementation and Testing by an SEO Agency
Once a keyword ranking strategy is in place, it is important that the site content reflects that strategy. After that is in place, the SEO agency can track and analyze the analytics and statistics that are gathered after the site is online with the new optimized content. This information can provide valuable insight into how people are finding the company's site and what keywords they are using in their searches. Once armed with that data, the SEO agency can tweak the program as needed.
SEO and online marketing is not a "set it and forget it " type of program. It requires constant analysis and care. By a company enlisting the assistance of an expert SEO marketing firm NJ NY, they can be assured that the firm will give the campaign the attention it requires for success.
When a business is ready to take the next step in improving their online presence, they may consider an agency that can provide SEO. But what can really be gained from an SEO agency?
What is SEO?
SEO (Search Engine Optimization) is the process of improving the overall visibility of a website in search engines, such as Google, Yahoo and Bing, via natural (also called organic), unpaid search results. There are many facets of SEO, including data search, local search, video search and vertical search for specific markets.
SEO considers how people search for information and what best practices can be utilized to improve a company's website in search engine results. These best practices can include proper site coding, developing optimized site content, inter-page linking, developing a keyword ranking strategy and legitimate inbound linking, to name a few Developing a strong SEO campaign is an important part of improving a website's presence in organic search. It should not be overlooked or considered inconsequential.
How Can an SEO Agency Help a Business?
An SEO agency has the expertise to develop a SEO strategy for a business, based on their needs and then implement it for maximum success. The algorithms of search engines and best practices for SEO are constantly evolving. As a result, it can prove difficult for a business to keep up to date on this constantly changing information as well as continuously improve upon their skill set to make sure they are getting the most out of their SEO campaign. An SEO agency can take care of managing the SEO campaign for a business and keep their customer up to date on everything that being done, what is proving successful and what requires adjustment for improved success.
SEO can be a complicated and time-consuming process that requires a high-level of knowledge in a variety of areas, including website coding, optimized content development, developing a keyword ranking strategy and working up a linking plan. When a business decides to work with one of the experienced SEO agencies, chances of success are greatly increased.
Search engine optimization is a complicated and time consuming process. Often, businesses do not have the time, knowledge or internal resources to manage this type of work, which is why it makes sense to get help from an SEO agency to develop a plan that makes sense for that specific business.
What is Search Engine Optimization?
Search engine optimization (also known as SEO) is a series of best practices that help promote a business' website so it returns higher in search results. When a business returns in a high position in search results, there is obviously a better chance an individual will click-through to the website and become a customer. This type of work requires much analysis and time. It is also important to note that there is a specific structure and process to SEO. If this type of work for a business' website is done incorrectly, it can hurt the website with the search engines and either damage the website's search engine ranking, or even worse, the site winds up banned from search engines all together. This is why it is smart a business utilize an SEO agency to both develop and implement a smart SEO program that follows all the industry's best practices (also known as "white hat " ).
What an SEO Agency can do for a Business
A SEO agency can provide a thorough analysis of a company's website, develop a keyword ranking strategy that makes sense for the type of industry the company is in and, most importantly, a project time line that will not raise questions with the search engines or be classified as "black hat " (unscrupulous practices) with search engines. The search engine optimization firm in NJ can utilize a variety of different analytics tools to review the results of the SEO campaign on a regular basis to identify what is working well and what requires adjustment. Over time, patterns for site visitors from search engine traffic will develop so the search engine optimization firm in NJ can continue to make adjustments that will help ensure success.
How important is Social Networking? Our seo company says astonishingly important!
The job of an SEO agency just got even more difficult. With Google's Universal Search Model implementation and their constant updating of features, it makes the job of an seo company increasingly harder. The most recent plans are to release Real-Time Search. Real-Time Search takes feeds from multiple communities online and displays them at the top of google's search results page. It displays relevant results that were found within popular social networking communities.
Google states, "Our Real-Time Search features are based on more than a dozen new search technologies that enable us to monitor more than a billion documents and process hundreds of millions of real-time changes each day. Of course, none of this would be possible without the support of our new partners that we're announcing today: Facebook, MySpace, FriendFeed, Jaiku and Identi.ca 'Äî along with Twitter, which we announced a few weeks ago."
See Real Time Search in action!
Companies that are not embracing Real-Time Search technology will find it harder to place on search results pages as google will start to rank sites that participate in social networking higher.
To learn about how this SEO agency can help you leverage Real-Time Search, please call 732-706-5555 or contact us online.